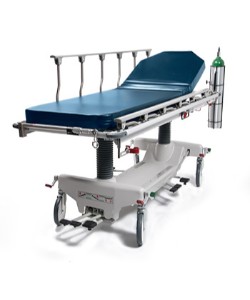 Hausted 493
The Hausted Fluoro-Track Fluoroscopy Capable Stretcher is ideal for fluoroscopy, endoscopy, and other procedures.  The Fluoro-Track has a C-Arm clearance of 24″ and has a patient weight capacity of 500 lbs.  The 493 features Sliding Top that travels a total of 12″ for positioning during procedures.  Radiolucent Patient Surface.
Standard Features
Stainless Steel 6-Leg, 3-Position Retracto¨ Rails with Built-In Push-Steer Handles and Top Caps that Eliminate
Patient Transfer Gap
Dual Side Foot Pedal Hydraulic Controls for Height Adjustment 23° – 36˜, Trendelenburgs: 0° – 15°
Pneumatic Assist Backrest Adjusts 0° – 80°
Brake and Steering Activation from All 4 Corners
8″ Tente¨ Casters
Powder Coated Steel Patient Surface
Seamless Thermoformed Base Cover with Storage and Built-In Oxygen Tank Holder
Full Perimeter Non-Marring Bumper System
Full-Length Radiolucent Top Meets BRH Requirements
Translating Top with 18″ Movement  12″ Towards Foot and 6″ Towards Head for Patient Positioning during
Fluoroscopic Procedures
Patient Surface: Nominal 24″ x 76″
Weight Capacity: 500 lbs.