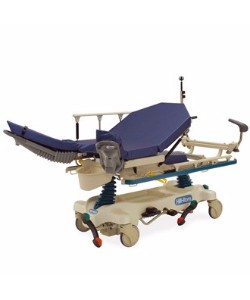 Hill-Rom 8050 OB/GYN Stretcher
With its fast and easy patient positioning, Hill-Rom's OB-GYN stretcher (8050) is ideal for use in both maternity and emergency. Built to last year after year, this stretcher offers outstanding mobility, convenience, and quality.
Save time with this stretcher's integrated foot supports, sliding litter and optional catch basin. Reduce heavy lifting and storage concerns with our stowaway foot section. The reinforced frames are made of heavy- gauge, automotive grade steel for long-lasting quality. Nickel-plated push handles, IV poles, side rails and other components offer superior rust resistance, even in harsh environments.
Specifications
Maximum weight limit: 500 lbs (317.5 kg)
Low position – floor to top of surface: 24.5″ (62.2 cm)
High position – floor to top of surface: 37″ (94 cm)
Overall length:  80.5″ (204.5 cm)
Overall width (siderails up): 35.5″ (90.2 cm)
Overall width (siderails stored): 31″ (78.7 cm)
Siderail length: 47″ (119.4 cm)
Siderail height above mattress/surface: 13″ (33.0 cm)
Mattress size: 30″ (76.2 cm) x 75″ (190.5 cm)
Maximum head elevation: 90°
MaximumTrend/ReverseTrend: 18°
Floor to base clearance: 3.5″ (8.9 cm)
Caster size: 8″ (20.3 cm)