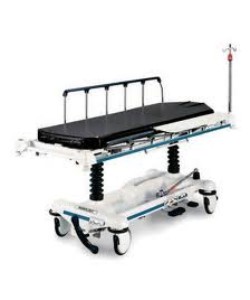 Stryker 721 Transport Stretcher
A variety of available configuration options give this Stryker 721 Big Wheel the versatility you need. The 500 lb weight capacity combined with multiple mobility solutions help accommodate heavy patients and long transports.
Positioning options give more flexibility and control than ever to both nurse and patient addressing patient comfort and skin issues associated with extended lengths of stay, helping maintain a positive patient experience.
Pneumatic Fowler Backrest
Trend and reverse trend
Bed width 30in overall
Bed length 81in overall, 75in mattress width (mattress not included)
Height 36.5in in high position, 27.5in in low position
Foot pedal position control
Trendelenburg 18° Reverse
500lbs patient capacity
Wheels 20.3(8) Diameter, cm (in)
Brakes – Central (4)
Folding siderails
Steel frame composition
Steel patient platform
Big Wheel Steering