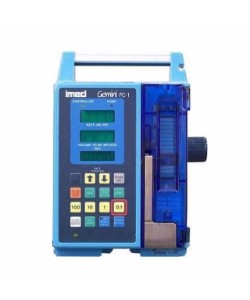 Alaris Gemini PC-1 IV Pump
The Alaris Pump Module and Gemini Administration sets support divers IV applications with the Alaris pump module 8100 and Gemini PC-1, PC-2, PC-2TX, and PC-4 Pumps. Configurations can integrate Smartsite needle-free valve or VersaSafe split septum injection ports above or below the pump segment.
Gemini PC-1 is a single channel volumetric infusion pump and controller which provides accurate and automatic infusion of intravenous drugs and fluids. The PC-1 may be operated as either a pump or a controller, or it may be configured as only one or the other using a lockout feature. Secondary (or piggyback) fluid may also be automatically infused at delivery rates and volumes independent of the primary infusion parameters, with automatic changeover to the primary infusion parameters when the secondary infusion is complete and when using an ADD-I-MED administration set. Computer operation is provided when the PC-1 is interfaced with a host computer. The technical data necessary to interface the PC-1 with a host computer is provided in the C-2 Programming Guide.