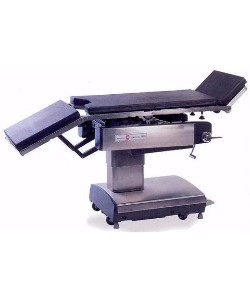 Amsco 2080 Manual OR Table
The Amsco 2080M manual surgical table is a multi-purpose operating table with the reliability and simplicity of manual operation. This workhorse is still very popular for its functionality and value and continues to provide a superior solution for specific clinical needs.
Pedestal includes tabletop lift cylinder and support column with bearing-mounted saddle frame fully enclosed by stainless-steel, telescoping shrouds.
Each shroud is one-piece construction to ensure against foreign matter entering the elevating mechanism.
300 lb weight capacity,
Side rails for accessories
Adjustable head rest.
Features include back up/down, leg up/down, Trendelenberg/Reverse Trendelenberg
Tabletop is 20-inch wide tabletop is divided into four hinged sections: head, back, seat, foot. Each section is cast aluminum (back, seat, and foot sections are covered by stainless-steel veneer).
Add to quote