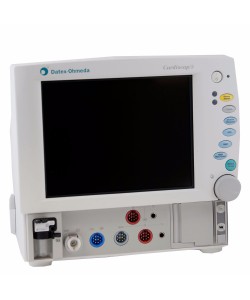 GE CardioCap 5 with 5 Agent Gas Analysis
The Cardiocap/5 is a compact, all-in-one monitor designed for use in the operating room, ambulatory surgery unit, induction room and PACU. The Cardiocap/5 offers full vital signs monitoring capabilities from the monitoring of oxygenation and circulation to advanced airway gas analysis and ventilation measurement with Patient Spirometry.
Cardiocap/5 networking options extend the capabilities to centralized monitoring and arrhythmia analysis.
The Cardiocap/5 has an outstanding user interface, the trademark of all GE Healthcare monitors, making it easy use, easy to learn and the perfect partner for any anesthesia machine.
Standard features and Configurations include:
Outstanding user interface
Hemodynamics
ECG
Impedance respiration
Pulse oximetry (SpO2)
NIBP
Temperature
Airway Gases: CO2 (N2O), Patient O2, N2O