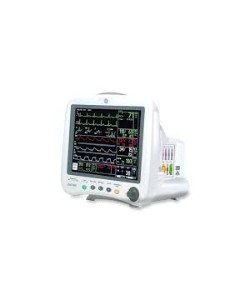 GE Dash 4000 Patient Monitor
The GE Dash 4000 Vital Signs Monitor is a high-performance, mobile monitoring solution that generates life-critical patient data no matter where you are. Very easy-to-use, the Dash 4000 monitor is versatile enough to implement throughout your entire enterprise. Lightweight (under 10 lbs), durable, and ergonomic, the Dash 4000 features a 10.4″ large-format, full-color active matrix display and provides convenient viewing from across the room. It can be used wherever you need a reliable patient monitor.
The Dash 4000 is the ideal monitor for the demanding needs of surgery center OR's and post anesthesia care units. The DASH 4000 monitor's gold standard data acquisition and analysis solutions, such as Marquette ECG and Dinamap NIBP, are standard features. Superior hard-wired and wireless network connectivity options are available. With its modular flexibility, the DASH 4000 offers it all.
Features ECG, NIBP, SpO2, Temp, and recorder. The full featured Dash 4000 monitor offers:
10.4″ screen.
ECG Cable and Leads
Nellcor Finger sensor and extension
NiBp cuff and hose
Roll of Paper