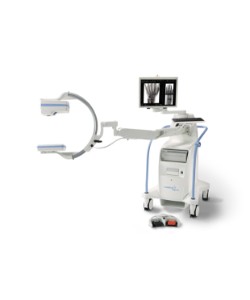 Hologic Fluoroscan InSight Mini C-Arm
The Fluoroscan InSight mini C-arm system incorporates this rotating flat detector, providing imaging versatility right in the surgical suite, regardless of how challenging the extremity procedure may be. With its smart engineering, this mini C-arm system answers the needs of orthopedic surgeons who require excellent image quality and time-saving, user-friendly instruments, along with the flexibility of having just one system that can handle all their extremity imaging needs.
Features:
Adjustment-free imaging with automatic exposure, as well as motion and metal detection.
Tilt-and-swivel capabilities to orient the monitor for best viewing.
Convenient handle and tube-head controls for fine tuning when needed.
Laser alignment light to help guide imaging to the precise and appropriate location.
Single press X-ray exposure right at your fingertips.
Multi-function wireless foot pedal.
Lightweight system that can be easily moved from room to room.
Folds into a tight mobile package for quick and efficient storage.
Full range of motion for improved maneuverability and positioning.
Cable pushers located on all four wheels.