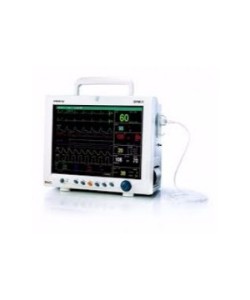 Mindray DPM5 Patient Monitor
At just over 10 pounds, the Mindray DPM5 Patient Monitor can be transported quickly from room to room. The monitor features quick-action keys on the front panel, allowing operators to easily set-up and begin use.
The clear, TFT color display panel can show up to eight waveforms for maximum data analysis of the following parameters: 3 to 5-lead ECG, NIBP, Nellcor¨ Oximax¨ SpO2, pulse rate, respiration, pressure and dual-channel temperature.
Features
Multi-parameter monitor:
Dual-channel temperature
Dual-channel invasive blood pressure
Respiration
Pulse rate
Nellcor¨ Oximax¨ SpO2
NIBP
3 to 5-lead ECG
Crisp, 12.1″ FT color display for clear readings
Screen is configurable with up to 8 waveforms
Comes standard with lithium-ion battery
Integrated recorder prints real-time and historical data
40-seconds of full disclosure waveform recall for detailed review of physiological events
Flash backup in the event of sudden loss of power
Large numerics mode for increased visibility
Optional features include DPM Sidestream CO2, arrhythmia and ST analysis
Various mounting configurations available