Steris Century V116 Steam Sterilizers are designed for fast, efficient sterilization of heat and water-resistant materials with the same capabilities as a gravity sterilizer. The V116 pre-vacuum sterilizer is equipped with pre-vac, gravity, flash, express, leak test, and daily air removal test cycles.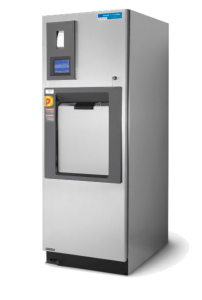 Features:
Florescent display for easy reading

Ink on paper impact printer

16″ x 16″ x 26″ chamber

Rack and 2 shelves

Freestanding unit

Vertical Door

Pre-vacuum Steam Sterilizer

Fast & efficient

Emergency manual exhaust valve

Non-lubricated, steam-activated door seal

Help screens for programming/troubleshooting alarm conditions

Communication interface compatibility w/ most PC devices

Electronic water conservation valve
This spring, Auxo Medical will be offering a Steris Century Series Sterilizers and Washer/Disinfector training course! Interested in attending? Register here.
Specifications:
Chamber Size: 16″ x 16″ x 26"

Overall Exterior Dimensions (including door lock-wheel): 74.5″H x 30″W x  35.75″D (with door closed)

Operating Temperature: 250º to 270º

One (1) Rack, Two (2) Shelves

Touch Screen Display
Additional Options: Cabinet Package, Loading Cart, Integral Steam Generator, Water Filtration Options
Looking for a refurbished Steris Century V116 Sterilizer? Contact us today!