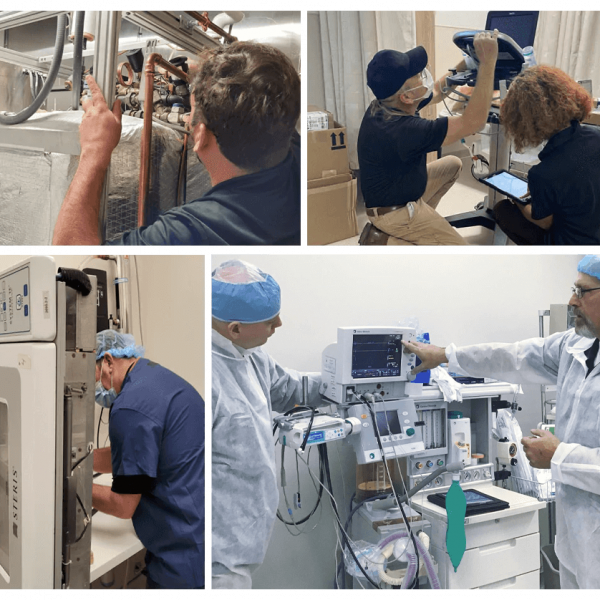 Medical Equipment Service, Maintenance & Repairs
Repair and maintain your medical equipment without breaking your budget.
When you're running a medical practice, the last thing you want to deal with is malfunctioning equipment. You should be able to focus on your patients' needs, knowing that you have reliable tools for every appointment. High-quality, reliable medical equipment doesn't just keep your practice running smoothly, it also helps you keep your operational costs fixed so that you can provide consistent care.
With over 50 years of experience, Auxo Medical proudly services local facilities with medical equipment repairs and maintenance. Whether you need a quick fix, an emergency repair, or preventative maintenance, we're here to help. Our service team is renowned for prompt, personable, professional service. You deserve to perform your specialty without technical hiccups; let us handle these headaches for you!
Fill in the form below to submit for a maintenance or repair quote
Repair and Maintenance Services We Provide
Biomedical Equipment
At Auxo Medical, we have AAMI Certified Biomedical Equipment Technicians (CBET) on staff and all biomedical preventative maintenance, repairs and calibrations onsite will be conducted by trained technicians to keep you operating under NFPA99 standards and AAMI recommendations.
Sterile Processing EquipmentSterilizers, Autoclaves, Washer Disinfectors, Boilers
Our Specialty is sterilization and keeping your facility operating under joint commission standards. We offer a variety of preventative maintenance programs that keeps your capital equipment running with little to zero down time.
Anesthesia Equipment
At Auxo Medical, we have AAMI Certified Biomedical Equipment Technicians (CBET) on staff with manufacturer certifications from GE and Mindray will provide all preventative and corrective maintenance to the manufacturer specifications. We offer preventative maintenance plans equivalent to those from the manufacturer with lower hourly repair rates!
Why Choose Auxo Medical for Your Medical Equipment Maintenance and Repair?
Because our experienced, trained and qualified technicians strive for the highest level of service and outcome possible and do so by our core values
Expertise for the Highest Level of Service
Our maintenance and repair specialists are trained, experience, qualified and ready to meet and exceed industry standards when it comes to repairing and maintaining your medical equipment. To ensure our clients are receiving the best service possible our technicians regularly receive addition manufacturer training relative to key products and equipment we sell and that our clients use.  Each of our technicians is able to:
Perform preventative maintenance for medical devices through tests and calibrations
Troubleshoot technical issues in a fast-paced clinical environment
Comply with CMS, FDA, and GMP regulations throughout every process
Navigate the most common medical software and hardware systems
Provide extensive, professional documentation of service appointments
Educate medical professionals on proper use and basic troubleshooting for equipment used daily
With every repair or maintenance appointment, it is our mission to provide top-quality service in a timely manner. Rest assured that each of our technicians is well versed in medical technology and has a background of extensive experience. You'll be hard-pressed to find a comparable service elsewhere!
Below are just a few of the many testimonials we receive from our clients of our outstanding medical equipment maintenance and repairs.
Auxo Medical's Core Values
Integrity & Professionalism
We value honesty and integrity above all else. We will treat customers and employees with respect and professionalism at all times.
Empowering Work Environments
We work without fear of failure by taking thoughtful risks.
We encourage everyone to make decisions that they feel are in the best interest of our company and customers.
Customers
Our customers are the lifeblood of our business. We will maintain outstanding customer relationships through honesty, flexibility, commitment, and quality.
Teamwork
We will strive to help our teammates and customers succeed. If one fails, we all fail. I will always ask "What could I have done better."
Wise Environmental Practices
We respect our environment and recycle, reuse, and reduce our waste wherever and whenever we can.
Improvement and Innovation
We are a learning organization. We strive to constantly improve our company and ourselves.
Safety
Nothing we do is worth risking the health or safety of any of our team members or customers.
What Our Maintenance, Service & Repair Clients Say About Our Service
I have had the pleasure to work with Anthony and the Auxo team over the last few months.  Earlier this year, PartsSource utilized the services of Auxo for a new contract to include approximately 58 Steris sterilization devices. They were very thorough in communicating and completed PM inspections, repairs, and paperwork in a timely manner. The Auxo team went above and beyond to provide quality service at a significant cost savings in comparison to the OEM.

Auxo has become a preferred service provider for PartsSource and we will continue to work closely with them on future endeavors.
It has been a pleasure working and contracting with the Auxo Medical team over the last 15 years.​ As our businesses grew and evolved Auxo demonstrated ​they were willing to do ​ what it took to support us both commercially as well as in services.​ These changes not only helped us optimize ​our overall business process flow it also allowed ​us to maximize our TCO's on our equipment. ​
The Auxo Medical team is qualified to work on a vast array of equipment and systems.​ They've provided staff training, personalized service and attention to detail for the ​Past eight years.
​
The Auxo Medical team has been an outstanding partner.​ Their response to service calls has been stellar.​ We are very pleased with the management and tech support they provide.​
Auxo Medical came into our facility a couple of months ago and has done an outstanding job by working with our staff and getting prior issues identified and resolved. They ran into many obstacles and worked diligently to remove them from our machines. ​Auxo has been a true partner with our organization.​
I have used auxo to service my sterilization equipment for 15+ years at two separate facilities. They have knowledge of our facility, engineering staff, as well as our equipment. Auxo provides education to my staff on our sterilization equipment.​ You'll be rewarded with great customer service.​ During a renovation project, auxo used a creative approach​ to keep us up and running during the entire process.​
Working with Mark and Jay at Auxo for new client implementation has been nothing short of impressive. Some clients can be skeptical of switching their maintenance service from the OEM to third party service companies … however, after a brief meeting and walkthrough with the client and the team, it quickly becomes obvious.​ Auxo's team members are truly industry experts.​ my clients rave about their responsiveness, ​expertise and focus to put the customer first.​ I can always count on them to go above and beyond for our clients … they are are pleasure to work with.​
Mike Lunde is always very helpful and the communication is wonderful. Very thankful to have him on this team!
Wonderful customer service! Tanner has been so helpful in answering my many questions to make sure we purchase exactly what suits our needs. I would highly recommend Auxo Medical.
We had a problem with our anesthesia machine & called Auxo. Claude came out within 2 hours of our call and repaired it the same day. Excellent service! Highly recommend them!
Auxo Medical is a diamond in the rough and they deserve your business. Every aspect of my experience was top notch. I worked directly with Stark to set up my account. He was attentive, knowledgeable and very easy to work with. I Scheduled 2 maintenance visits for separate locations with Brandon and he absolutely delivered. My entire staff said he was great to be around and he left our lab cleaner than it was before. I definitely recommend Auxo Medical for anyone in need.
I have been managing surgery centers for several years and have always used AuxoMedical to perform preventative maintenance and repairs on our sterilization equipment. They are responsive, knowledgeable and reasonably priced. I have especially enjoyed working with Mark, Tanner and Tony. Highly recommended!
Mr. Claude McGuire is a phenomenal technician that has always been accommodating, professional and expedient in his work of keeping our autoclaves online and good to go! I would recommend Auxo Medical and their maintenance contracts - hopefully you'll get as lucky as we are to have Mr. McGuire service our sites.
Auxo's scheduled maintenance program has reduced our downtime by at least two thirds [and] response to problems has been lightning fast and repairs performed the same day in most cases. Auxo's overall performance has been outstanding. Previous agreements with other contractors were poorly performed resulting in chronic breakdowns and longer downtimes.
The Auxo Medical team has been amazing, by keeping some of our older equipment running as well as a new piece of equipment. They have also helped us update larger capital purchases for our surgery center. If you want reliable and fast service you couldn't find a better team.
Additional Plan Benefits
Our service contracts include additional benefits that you may not know about!
Additional Discounts and Trade-In
Get 5% discount off all equipment purchases.
Our sales associates can assess the "Market Value" of your facility's medical equipment for trade-in or liquidation value. Liquidation services are primarily for facilities that are closing, merging, upgrading, or for insurance requirements.
Service Portal
The Auxo Medical Service Portal is a secure location where current service plan holders can manage their equipment inventory and track their support cases in real-time. Users can create new work orders submitted directly to the service team and also print repair and maintenance history reports on each of their assets. Need access to maintenance reports for your next survey or operational budget evaluation? All history is readily available in your Auxo Medical Service Portal.
Equipment Upgrades
Plus, Auxo Medical can also help you upgrade the equipment you currently have. We can upgrade or refurbish your current equipment onsite or remove and replace older equipment for a fraction of the cost of buying a brand new piece of equipment.