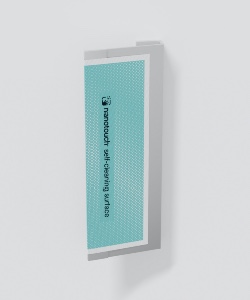 At Auxo Medical, we offer a variety of Nanoseptic products, among other products that your facility may need. Here are six of the Nanospectic products we offer and what you should know about them:
These clear films can be placed on touchscreens throughout your facility. The film can be cut to fit any size of screen. Nanotouch films are self-cleaning, and their low-tack adhesive makes installation secure and easy. You can use these films on airline kiosk screens, business checkouts, hospital touch screens, and more. These Nanotouch clear films can provide protection to the most high-touch areas. 
ADA door handles can benefit from these self-cleaning handle wraps. ADA door handles are often required in schools, universities, and other large buildings. The push-pull door wraps last 90 days. Before installing one of these wraps, spray and wipe the handle with a glass cleaner. Door handles are another high-touch area that can benefit from this technology. 
Similar to the push-pull door handle, this pull-only door handle is a high-touch object. This Nanotouch wrap fits around a tubular-shaped door handle. It can fit almost all pull handles and can be cut to fit smaller handles if needed. 
The elevator can be in a high-traffic area, and the buttons are pushed dozens of times a day. These clear Nanotouch plastic covers continually self-clean throughout the day. They are simple to use as they are peel-and-stick. Each sheet offers 25 buttons and is clear, so the numbers on the buttons will remain visible. 
Counters in reception areas, desks in offices, or surfaces in exam rooms are perfect for these counter mats. These mats come with a pocket to insert educational material, marketing materials, calendars, or whatever suits your facility. The front is a clear frost, while the back is durable rubber designed to stick to flat surfaces.
Push doors are used in several different areas, like locker rooms, bathrooms, cafeterias, and more. This door push pad is simple to install and replace. Not only do people use their hands to push, but they also use other areas of their body, like elbows and sides of their body. This technology can help keep those areas clean. 
Auxo Medical for Nanoseptic Products
We offer high-quality Nanoseptic products for various high-touch areas and surfaces. Other Nanoseptic products we offer range from a self-cutting sheet to desk mats designed for specific uses. When you choose to use these products, you can show your customers, clients, staff, and others that you care about their safety and well-being.
The technology that Nanoseptic items use is a great addition to already existing cleaning practices in your facility. This is an innovative, cost-effective, self-cleaning technology that continues to transform the industry of hygiene. If your business or facility has many high-contact areas or surfaces, contact Auxo Medical for more information on Nanoseptic products.