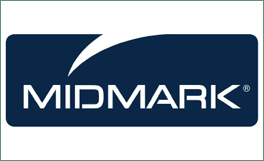 Brands – Midmark
With roots dating back to 1915, Midmark is a recognized leader in the manufacture of medical procedure tables, treatment tables, examination tables, and exam chairs.  With two distinct brands – Midmark and Ritter – their products have become the industry standard in clinics, private practices, hospitals, medical schools, and more. This brand of tables offer high quality and patient comfort, and are a solid long-term investment.
Exam Tables
Examination tables are the backbone of the medical profession. They are where most of the interaction between doctor and patient occur. Comfort, ease of use, and durability are essential. These two brands are designed with patients and physicians in mind. From manual exam tables to power, barrier-free models, Midmark has a table for every circumstance.
Procedure Tables and Chairs
The number of medical procedures being performed every day in the U.S. continues to grow, from the routine to the complex. Likewise, the Midmark and Ritter brands have responded with a complete line of procedure tables and chairs. Be it a complex podiatry procedure, or a sensitive bariatric one, Midmark offers an appropriate procedure table and accessories.
Auxo Medical carries new procedure and examination tables of these brands, as well as refurbished, good-as-new equipment that meets Midmark's exacting standards.