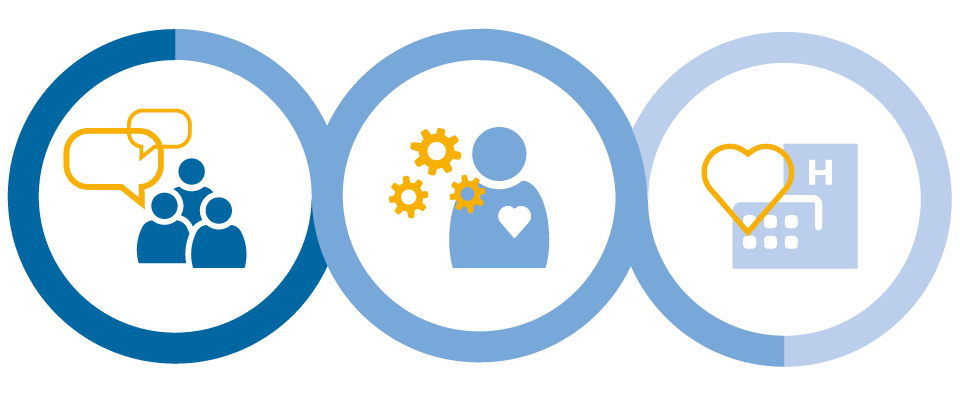 Improving the patient experience is imperative in the competition for healthcare market share. Organizations must improve levels of convenience, access, and the overall customer service in order to thrive — no pressure, right? Here are the most relevant patient experience trends that will persist throughout 2019, and what can be done to make the most of them.
1. The Online Patient
The provider-patient relationship starts long before meeting in-person for the first time.
The unending amount of information available over the Internet easily allows prospective patients to find insights and answers about healthcare providers. Something as simple as finding out the distance from their home to the facility, to deeper questions such as determining if a physician can meet a patient's individual needs. Online resources allow important decisions to be made on choosing caretakers, in a sea of provider options.
Procuring healthcare providers online is practically the norm these days. In a 2018 report, 80% of patients used the Internet to make a healthcare-related search in the past year, and 76% of patients over 60 years old made a healthcare-related search online in the past year. Since the patient journey begins online, your organization's online brand must be consistent, current, and approachable.
How to Leverage this Trend
Your digital presence must be a top focus for the organization, from social media activity and engagement (e.g. Instagram, Facebook, Twitter, etc.) to insurance provider website links being accurate, to building location addresses and phone numbers being correct and easy to navigate. Additionally, sharing valuable content updates, and being a helpful resource for the community, will set your brand apart as competent and trusted.
2. Virtual Reputation
The availability of provider information online, in addition to how easy it is to access reviews/ratings, has empowered today's patients more than ever before. A prospective patient may have been given a referral from a friend or colleague, and that certainly goes a long way, but the patient will likely still do their own research online to confirm they're making the right decision. Everyone's time is precious, and the last thing they want to do is waste it on a poor healthcare experience.
Truth be told, your online reputation has a direct correlation of patients' experiences. Reportedly, 81% of patients read reviews about a referred provider occasionally, frequently, or always – and that's after being referred. In addition, 53% of patients will occasionally, frequently, or always change their mind about a provider with a rating of fewer than three stars.
How to Leverage this Trend
Don't just encourage patients to write an online review, incentive them too. If a patient is sincerely happy, they will be willing to take the time and do so, however, providing something in return is a nice gesture.
For example, a chiropractic center hung call-to-action signs around their office, emailed, and texted patients with their request to leave a review on Google, Facebook, and Yahoo. For each review left online, as a thank you, the patient had their choice of picking a free wellness product.
Why is this important? Generally speaking, the majority of people only take the time to write reviews if they have an exceptionally bad experience or an exceptionally great experience.
Make sure there is someone who is committed to reading, replying, or responding to online reviews, whether it is positive or otherwise. Negative reviews should be handled with respect, honesty, and compassion.
3. Booking Online
We live in a microwave society — we want what we want, and we want them now. Our patience is limited. With that said, it's not uncommon for patients to be unwilling to delay being seen by a provider for weeks, or even months.
For this reason, offering the ability to book appointments online is a nice service to offer patients. In fact, according to the Doctor.com report, 45% of patients are partial to using digital methods to request an appointment (i.e. non-voice interaction including online tools, mobile apps, or email). Third-party scheduling through Yelp, Google, and other platforms can effortlessly integrate with your organization's calendar, making it easier for front office staff to oversee.
Since we know that many patients prefer an online booking management system, it's not a surprise to learn that 42% of patients will select a healthcare provider, due to the ability to use online scheduling. Online appointment booking is widely offered, but it's not quite the norm yet. This service will help solidify relationships with existing patients and influence new patients to your organization.
How to Leverage this Trend
If your organization has not already started to offer online appointment booking, it is important to implement this trend sooner than later in order to keep up with the consumer demand. By the end of 2019, 66% of U.S. health systems are predicted to offer digital self-scheduling and 64% of patients will book appointments digitally, delivering $3.2 billion in value and a competitive uptick for health systems.
Researching software options will be an important step before choosing which one to use, as the variety of options available are not apples to apples. Utilizing the best appointment booking software for your organization will make life easier on your employees and increase their productivity vs. wasting time troubleshooting software nuances.
4. Texting with Patients
Patients expect a text message confirming their appointment once it's been made. With 71% of patients preferring appointment reminders via digital contact (i.e. email and text) and 53% of patients preferring reminders via text, it's important to incorporate text communications into your practice.
Text messages are the perfect vehicle for a variety of communications, such as:
Appointment reminders and annual checkups
Prescriptions ready for pickup, or a reminder to order a refill
Test results
Vaccination reminders
Raising awareness about outbreaks and diseases
The proverbial price of implementing this technology is a worthy one, as 42% of patients report that text and email appointment reminders influence their loyalty and likelihood of returning to a provider on multiple occasions.
How to Leverage this Trend
Many companies provide both online appointment booking and SMS messaging capabilities, so choose a software vendor that provides comprehensive solutions. Bonus: with one partner, you can leverage two patient experience trends.
It goes without saying, but taking into account HIPAA compliance and privacy will need to be addressed. If done appropriately, text messaging is HIPAA compliant. Working with an SMS provider who has knowledge in the healthcare space will help with compliance as well.
For ongoing updates on relevant and topical healthcare industry subjects, be sure to subscribe to our bi-monthly blog.