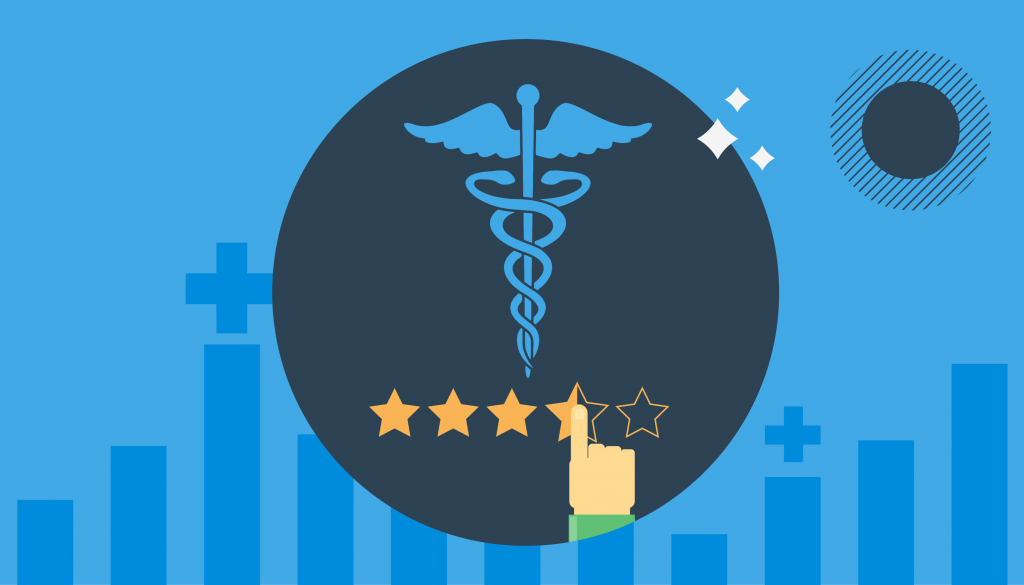 Healthcare of yesterday included going to the nearest facility, trusting your care provider without question, and following the protocol/advice that was given.
Healthcare of today includes going to a provider who has the best reputation on HealthGrades.com, and on your neighborhood's Facebook community page, doing your own research in advance of an appointment as well as following the appointment, and seeing what other alternative approaches are available in addition to the advice that was given by the provider.
Our healthcare landscape has become more and more competitive, since patients and their loved ones are no longer riding shotgun, but rather are now sitting in the driver's seat…steering their own healthcare experience.
The 2019 market share of a healthcare provider will stem from delivering high-value care with a special emphasis on the patient's experience.
According to the Harvard Business Review, the patient experience is the sum of all interactions influencing patient perceptions across the continuum of care. In the U.S., estimates show that active patient choices can impact more than 60% of health care spending.
Providing highly engaged, integrated and proactive care for high-needs patients will improve the patient experience and the balance sheet. Health organizations must make this patient-centric approach a top priority.
Patient Engagement
Patients now hold the power to decide which healthcare choices support their personal needs, from data insights and digital retrieval to informative services and medical access. People assume that procedures and treatments will be customized to their personal preferences and requirements.
Harvard Business Review also points out the crux of the situation, "Whether digitally enabled or geographically convenient, improved access to personalized care is important when patients are looking for a healthcare provider. Cultural and language considerations also play a role as patients choose where to go for care."
The higher level of engagement needs to begin before someone becomes a patient, with widespread outreach and information to raise awareness of informed choices in their personal health. Another opportunity to improve the patient experience is to make family members feel included in decisions and provide ongoing updates — this helps reduce anxiety and sets expectations. It is also important to proactively foster preventative care to increase earlier diagnosis and treatments for higher outcomes.
As patient access increases through various digital platforms, including electronic medical records, remote monitoring tools, and artificial intelligence insights, healthcare systems are becoming almost entirely consumer-focused.
Increasing Outcomes
More than any other aspect of healthcare increasing the patient experience, ultimately, nothing is weighed more heavily than favorable outcomes. Recognizing the goals of patients, understanding their preferences, and overlaying them with a personalized medical management plan will result in better patient satisfaction.
From an earlier diagnosis to a clear treatment plan, to experience the lowest amount of pain possible, to reduced side effects, and improved quality of life — are all common goals of patients and their families. Making the most out of technological tools will only improve the odds of a patient reporting a positive and safe experience, including offering less invasive treatment options.
Smoother Diagnostics
Patients have high expectations, including nothing less than on-time procedures, that go as planned, and receive open communication throughout the experience. If one of these variables are not met, it will most definitely decrease the overall patient experience. For example, a wife is told that her husband's biopsy surgery will begin at 10 am, but it doesn't actually begin until noon, and the family isn't told otherwise — the anxiety and stress levels will unnecessarily jump off the charts. Cutting down wait times for results is another way to improve the level of empathy for the patient experience.
Even items such as calming paint colors in the waiting room, to quieter diagnostic machines, can decrease patient apprehension, and positively increase the quality of data collected.
Lifelong Allegiance
The patient experience doesn't end at discharge. Persistently administering positive experiences over the long term is a critical element in improving the patient experience. Dependability of communicating with providers when support or guidance is needed as time passes, and having access to their personal medical records, plays a role for patients' ongoing loyalty.
In conclusion, a treatment that takes patient preferences into consideration, while minimizing worry, will increase patient faithfulness to their care providers.
In our next blog, we will discuss how leading healthcare organizations are paving the way for improved patient experiences.