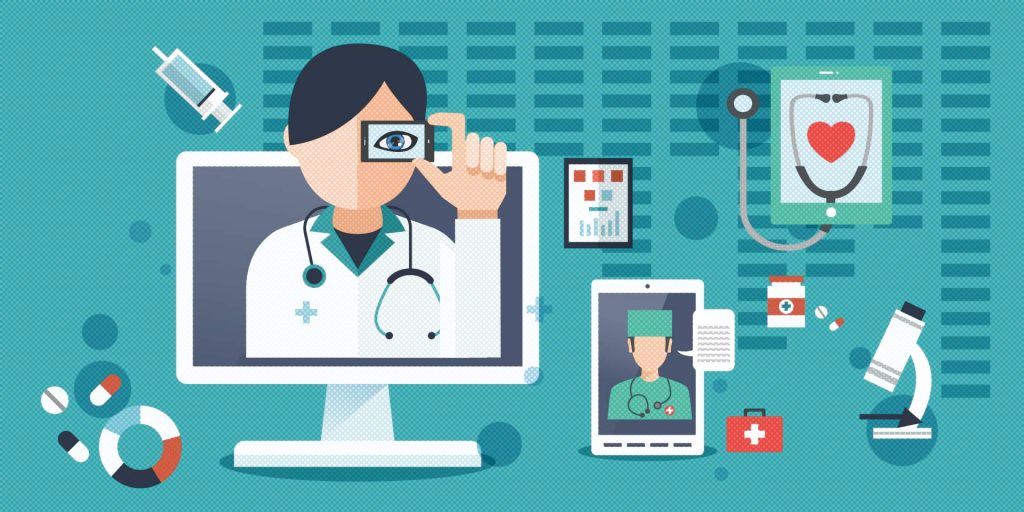 Over the past year, we have witnessed several advances in the realm of telemedicine. From adjustments in the state / federal policies and reimbursements to providers implementing telehealth in their practices to the actual definition of telehealth changing.
The intersection of consumer purchasing transactions has evolved across multiple areas in our lives — how products are acquired, how we communicate with each other, and how we foster connections — the weaving of the tangible and digital is here to stay.
Present-day healthcare has two distinct extensions and they strengthen one another. Traditional care inside of an office, in conjunction with digital care from afar, will be carried out to increase the quality and outcomes of patients' healthcare experiences.
The nostalgia of looking back and synthesizing where we've come from is easy to do, but predicting the future of telehealth isn't as black and white. Nevertheless, here is our industry forecast of what's ahead in 2019, and where we expect growth in telehealth to be accelerated.
Virtual First
The introduction of "Virtual First" will be revolutionary for the medical industry. This is a health insurance offering that is based upon an on-demand PCP via the phone. This convenient option offers a faster response rate than concierge medicine, which is known to be costly and expects engagement with a provider before actually receiving healthcare services. With Virtual First, a physician will assist with providing care, and if needed, they can put follow-up appointments on the calendar for additional services or lab work in a cost-effective, nearby location. Leveraging telehealth technology combines exceptional healthcare with the ability to limit healthcare costs. Virtual First is positioned to make a substantial imprint on healthcare the same way we now shop online vs. driving down to a brick-and-mortar store, or how we now hop into a stranger's car to ride share vs. getting behind the wheel of our own car. Healthcare delivery is fundamentally changing as we know it.
"Payers will become much more strategic in how they view virtual care. They will leverage telehealth more than ever to provide consumers with better access to high-quality primary care, and to cope with the growing crisis of chronic disease in the U.S; 60% of Americans have at least one chronic disease, which accounts for 81% of hospital admissions. We will see much more innovative plan designs from payers that will put virtual care at the front door for patients." —Hill Ferguson, CEO, Doctor On Demand
Advancements in Technology Will Enhance Capabilities
Artificial intelligence (AI) has made progress in utilizing virtual care. As massive amounts of data are added into healthcare systems, we anticipate additional advancements in providing turnkey care, as well as the capability to quickly scale solutions. HealthLeaders did a survey among its readers to get their take on 2019 predictions — their insights only further underscore our prediction, "Readers suggest that 5G cellular mobile communications and progress toward resolution of incompatibilities between technological platforms will contribute to more streamlined services."
Quality Care Continues After Hospital Discharges
In 2019, telehealth will push into other healthcare settings too — especially post-acute needs, skilled nursing facilities, as well as home health services. They seek to manage patient care on-site, vs. relying on ambulance transport and readmissions. In the future, we anticipate that telehealth services will be priced by their ability to lower patient transfers and ultimately decrease morbidity and provide better outcomes.
A perfect example of this transition in telemedicine is from New York-Presbyterian. After executing a business-wide telehealth platform into its own EDs, they reduced their average ED wait time from over two hours to approximately 30 minutes.
Telehealth Bridges the Gap Between PCPs and Academic Centers
There is a stigma that prominent academic centers go hand-in-hand with better outcomes for patients. Although there is some truth to that, it also doesn't mean that alternative healthcare settings don't have quality outcomes, too. Of course, medical skillsets are polished in environments with larger volumes of patients, but telehealth invites the opportunity for high-skills centers to participate and advise with care delivery on a local level. Hospitals with a dominant market share will deploy telehealth to support community providers from all over, as well as fine-tune the care of their neediest patients who —many times — come with the most risk and cost.
A Growing List of Telehealth's Benefits
Telehealth has been defined as the delivery and facilitation of health and health-related services including medical care, provider and patient education, health information services, self-care via telecommunications and digital communication technologies.
The benefits of telehealth, which are far and wide, include: Increasing access to healthcare
Improving health outcomes
Reducing healthcare costs
Assisting in addressing shortages and misdistribution of healthcare providers
Supporting clinical education programs
Improving support for patients and families
Improving organizational productivity
These changes in the way we deliver healthcare today directly impact the patient experience of tomorrow.
You can follow along by subscribing to our email list so you never skip a beat, or stop by our blog for the latest posts.