Meet Auxo Medical: Your Trusted Partner in Atlanta, GA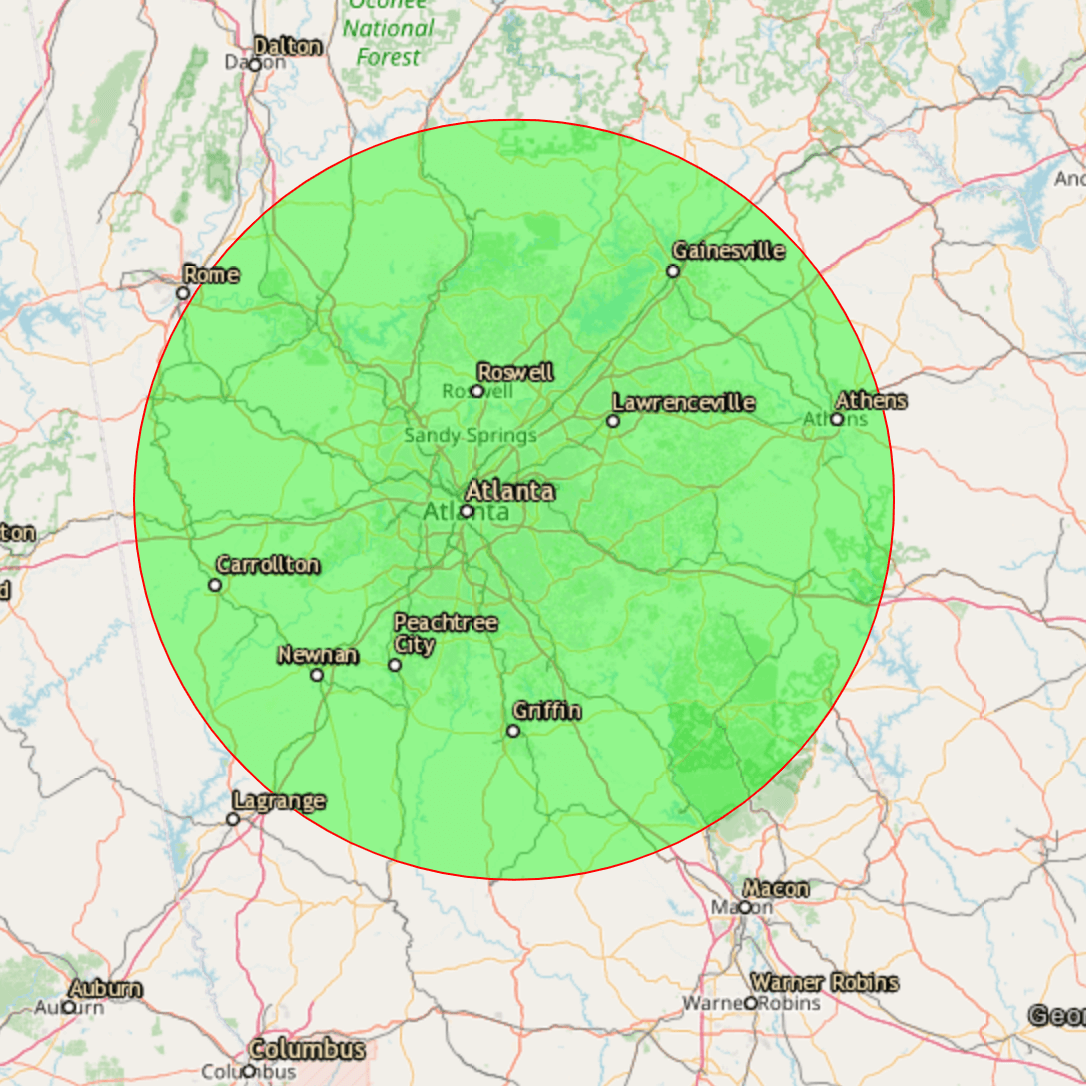 When it comes to sterile processing equipment maintenance and repair in the Atlanta, GA metro area, one name stands out among the rest—Auxo Medical. With a proven track record of excellence and a commitment to delivering top-notch service, Auxo Medical has established itself as a trusted partner for hospitals, clinics, surgery centers, and laboratories.
At Auxo Medical, we understand that the proper functioning of sterile processing equipment is crucial for ensuring patient safety and infection control. That's why we go above and beyond to provide comprehensive maintenance and repair services that keep your equipment running smoothly. Our team of experienced technicians is well-versed with the latest industry standards and best practices, ensuring that every piece of equipment is meticulously inspected and serviced.
With our state-of-the-art technology and meticulous attention to detail, we make sure that your sterilization processes will be optimized for maximum efficiency. By partnering with us, you can rest assured that your patients will receive the highest level of care while minimizing downtime due to equipment malfunctions or delays.
If you are seeking a reliable partner in the Atlanta area for your sterile processing equipment maintenance and repair needs, look no further than Auxo Medical. We pride ourselves on providing exceptional service tailored to meet the unique requirements of healthcare facilities throughout the Atlanta metro area.
New and Refurbished Medical Equipment: A Cost-Effective Solution
In the ever-evolving world of healthcare, staying up-to-date with the latest medical equipment is paramount to providing exceptional patient care. However, acquiring brand-new equipment can be a daunting financial endeavor for many hospitals, clinics, and surgery centers in the Atlanta, GA metro area. This is where Auxo Medical steps in as a trusted partner.
At Auxo Medical, we understand that reliable and high-quality medical equipment is crucial for efficient operations and patient safety. That's why we offer a comprehensive range of new and refurbished medical equipment at affordable prices. Our team meticulously inspects and refurbishes pre-owned equipment to ensure it meets stringent quality standards before making it available to our valued customers.
The Importance of Sterile Processing Equipment Maintenance and Repair
When it comes to the healthcare industry, maintaining a high standard of cleanliness and sterility is very important. Sterile processing equipment plays a crucial role in ensuring the safety of patients and healthcare professionals alike. Proper maintenance and timely repairs are vital to uphold the integrity and functionality of this equipment.
By investing in regular maintenance and repair services for sterile processing equipment, healthcare facilities can significantly reduce the risk of contamination, infections, and other potential hazards. Ensuring that autoclaves, sterilizers, washer-disinfectors, steam generators, and other essential machines are working at optimal levels guarantees effective sterilization processes.
Autoclaves and sterilizers play a critical role in maintaining the highest standards of cleanliness and infection control within medical facilities. These indispensable pieces of equipment utilize the power of heat, steam, and pressure to eliminate any potential contaminants on surgical instruments, medical devices, and laboratory equipment.
When it comes to sterilization, precision is paramount. Autoclaves are designed with multiple control settings to ensure that different types of materials can be safely sterilized without compromising their integrity. Through a combination of high temperature and pressurized steam, autoclaves effectively deactivate harmful bacteria, viruses, fungi, and spores that may remain on surfaces. By doing so, they provide healthcare professionals with peace of mind in knowing that their instruments are safe for use on patients.
Washer-Disinfectors: A Game-Changer in Equipment Sterilization
When it comes to ensuring the utmost safety and cleanliness in medical facilities, washer-disinfectors have emerged as a true game-changer in the field of equipment sterilization. These state-of-the-art machines offer a reliable and efficient method for cleaning, disinfecting, and decontaminating various medical instruments and equipment, ultimately safeguarding patients' well-being.
With their advanced technology and precision engineering, washer-disinfectors provide an unparalleled level of cleanliness that surpasses traditional manual cleaning methods. These sophisticated devices employ a combination of powerful water jets, high temperatures, appropriate detergents, and sterilizing agents to thoroughly remove debris, organic matter, bacteria, and other harmful microorganisms from instruments. By eliminating the risk of human error associated with manual cleaning while achieving superior results, washer-disinfectors elevate the standard of sterilization in healthcare settings.
When it comes to maintaining the absolute sterility of medical equipment, steam generators and boilers play a critical role. At Auxo Medical, we understand the significance of reliable and efficient steam generation in healthcare facilities in the Atlanta, GA metro area. Our top-of-the-line steam generators and boilers are designed to provide a consistent and uninterrupted supply of high-quality steam, ensuring optimal performance of your sterile equipment.
By utilizing advanced technology and adhering to stringent quality control measures, our steam generators and boilers not only meet but exceed industry standards. With their robust construction and innovative features, they offer exceptional durability alongside unparalleled efficiency. This reliability is fundamental in powering your autoclaves, sterilizers, washer-disinfectors, and other essential equipment. With Auxo Medical as your trusted partner for steam generation solutions, you can rest assured that your sterile processing operations will run smoothly with minimal disruption.
Preventive Maintenance: A Proactive Approach to Equipment Longevity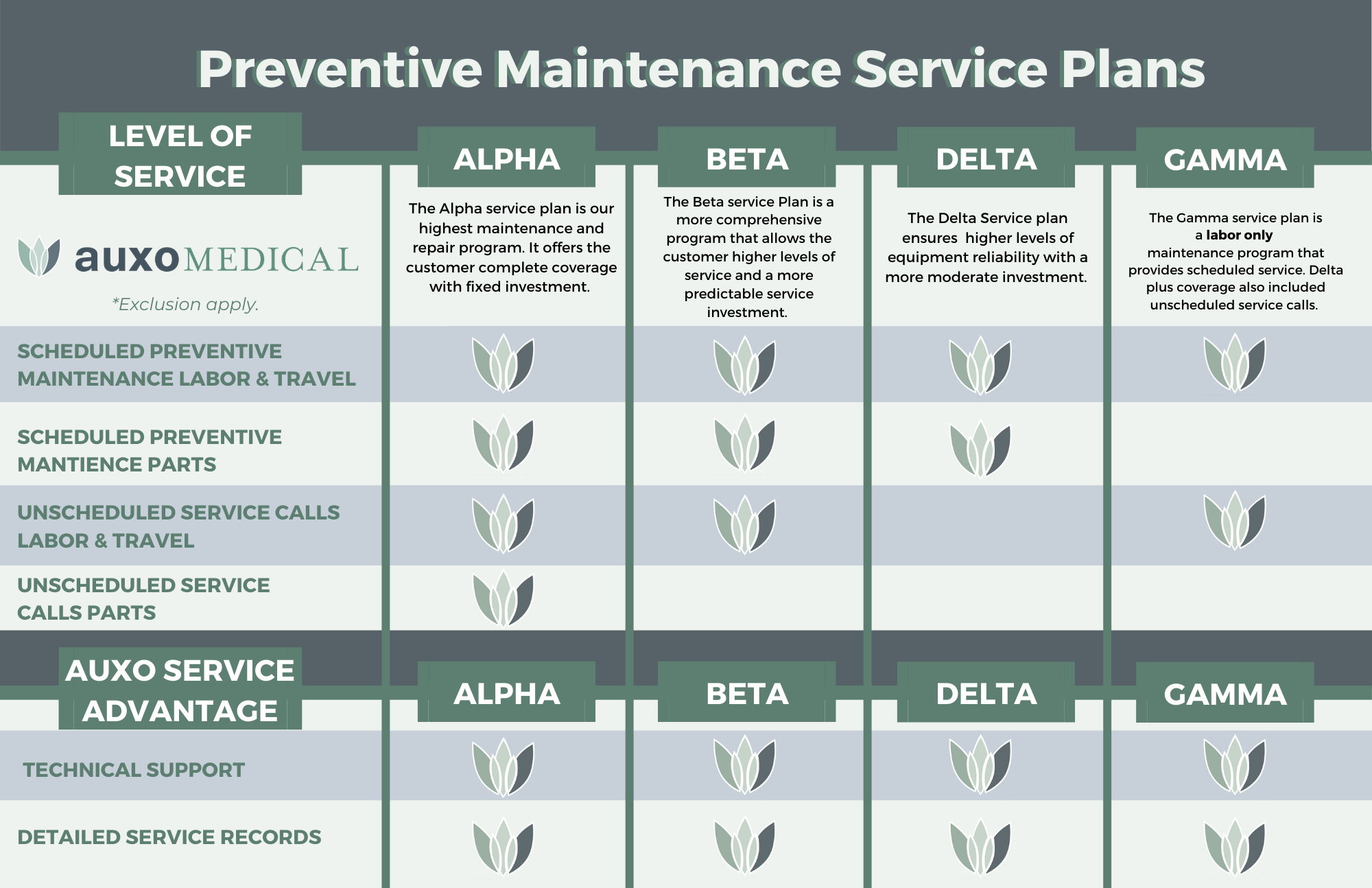 In the fast-paced world of healthcare, ensuring the reliability and longevity of sterile processing equipment is vital. This is where Auxo Medical steps in, offering a comprehensive preventive maintenance program aimed at proactively addressing potential issues and minimizing equipment downtime. With our expert team of technicians armed with advanced knowledge and state-of-the-art tools, Auxo Medical goes above and beyond to safeguard the functionality and performance of your valuable medical equipment.
By implementing a robust preventive maintenance plan, healthcare facilities can reap numerous benefits. Not only does it extend the life expectancy of essential sterilization devices, but it also promotes uninterrupted workflow, reducing unexpected breakdowns that could disrupt patient care. Moreover, through routine inspections and calibrations, potential problems can be identified early on and promptly rectified. This proactive approach not only saves hospitals time and money but also ensures that patients receive the highest quality sterile instruments for their procedures.
Timely Repairs: Minimizing Downtime in Hospitals, Clinics, and Surgery Centers
In the fast-paced environment of healthcare facilities, every minute counts. The smooth operation of sterile processing equipment is crucial to ensure patient safety and maintain the efficiency of medical procedures. In this section, we will explore how Auxo Medical's timely repair services play a vital role in minimizing downtime and keeping hospitals, clinics, and surgery centers running seamlessly.
When an essential piece of sterile processing equipment malfunctions or breaks down unexpectedly, it can disrupt entire workflows and compromise patient care. However, with Auxo Medical's expert technicians just a phone call away, you can have peace of mind knowing that any repairs needed will be swiftly addressed. With our extensive knowledge and experience in medical equipment maintenance and repair, we are equipped to handle all types of issues efficiently.
Dedicated Services for Laboratories: Maintaining Equipment Accuracy
In the realm of scientific discovery, accuracy is paramount. From cutting-edge research facilities to clinical laboratories, accurate and dependable equipment is essential for precise experimentation and analysis. This is where Auxo Medical steps in with its unparalleled dedication to maintaining equipment accuracy.
With a team of highly trained technicians specialized in laboratory equipment maintenance, Auxo Medical offers comprehensive services that go beyond routine checkups. We understand the critical role that laboratory equipment plays in advancing scientific knowledge and improving patient care. From pipettes and centrifuges to microscopes and spectrophotometers, our expertise covers a wide range of complex instruments.
When it comes to ensuring the utmost safety and efficiency in medical facilities across the Atlanta, GA metro area, there is no better partner than Auxo Medical. With our comprehensive range of services, including the supply of new and refurbished medical equipment as well as sterile processing equipment maintenance and repair, Auxo Medical stands out as a trusted industry leader.
Whether you are looking to equip your healthcare facility with state-of-the-art medical devices or seeking expert maintenance and repair for your existing sterile processing equipment, Auxo Medical has got you covered. Our team of highly skilled technicians possesses an in-depth understanding of intricate medical equipment systems, allowing us to provide meticulous repairs that minimize downtime. Additionally, our commitment to customer satisfaction ensures that all services are performed promptly and efficiently, leaving you with peace of mind knowing that your facility is equipped with safe and reliable equipment. Contact Auxo Medical in the Atlanta, Georgia area today. Call toll-free: (888) 728-8448.