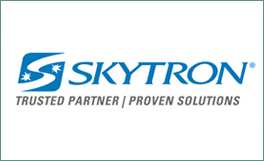 Brands – Skytron
Skytron surgical tables are designed for optimal positioning, increased efficiency, and maximum patient safety. In business since 1972, this company has built a reputation for not only innovative and flexible solutions for healthcare providers, but for superior quality and service as well.
Skytron is a market leader in both top slide and top rotation surgical and operating room tables and all models are designed to reduce annual maintenance costs without sacrificing performance and patient comfort.
Top Rotation Surgical Tables
Skytron's top rotation tables rotate like the hands on a clock to accommodate C-arms or provide leg room for a seated surgeon at either end of the table. Combined with a low-profile base that will never get in the way of the surgical team or other equipment, Skytron tables make any operating room safer and more efficient. Skytron's top rotation tables include the 6702, 6302 and 1700 models. They range in rotation from 180 – 210 degrees with lift of 500 – 1,200 lbs. and 500 – 1000 lbs. articulation.
Top Slide Surgical Tables
Skytron's top slide surgical tables move north-to-south, enabling easy movement of the patient through imaging equipment. Skytron's slide top tables include the 3602 and 3502 models. They are 23″ and 21″ respectively, and range from 700 – 1,000 lbs. of lift with 600 – 800 lbs. articulation.
Auxo Medical carries new Skytron OR tables, as well as good-as-new, refurbished Skytron medical equipment that meets Skytron's positioning, efficiency, and safety standards.
The Skytron® 6500 Surgical Table is a general surgery table filled with features. The 500 lb. (Elite) and 850 lb. (Hercules) weight ... Learn More
From ease of set-up to the reduced need for multiple support accessories, the Hercules 6701 is the most powerful, versatile, and ... Learn More