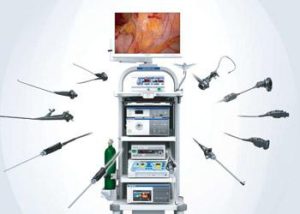 Olympus is a multinational corporation known for its high-quality cameras, optics, and medical equipment. Among its vast range of products, the Olympus Endoscopy Scope Towers stand out as a state-of-the-art solution for healthcare professionals. As a leading brand in endoscopic technology, Olympus provides a comprehensive endoscope management system that meets the needs of numerous medical specialties.
In this article, we will explore the features and components of Olympus Endoscopy Scope Towers. We will also discuss the advantages of using these towers in medical procedures and highlight the company's commitment to patient safety, optimization, and technological innovation.
Components of Olympus Endoscopy Scope Towers
The Olympus Endoscopy Scope Tower is an advanced and modular endoscopic system that encompasses different components designed to work seamlessly together for optimal performance. These components include:
1. Video Processor
The video processor is the central hub for image processing, management, and display in the Olympus Endoscopy Scope Tower. It provides exceptional image quality, high-resolution images, and supports various advanced imaging techniques, such as Narrow Band Imaging (NBI) and Dual Focus.
2. Light Source
Olympus offers a range of high-quality light sources that provide superior illumination for endoscopy procedures. These powerful light sources work in tandem with the video processor to deliver high-resolution images with vivid colors and sharp details.
3. Endoscope
Olympus Endoscopes are known for their exceptional image quality, ergonomic design, and durability. Available in both flexible and rigid configurations, these endoscopes cater to a wide range of endoscopic procedures in various medical specialties, such as gastroenterology, urology, gynecology, and more.
4. Monitor
High-resolution monitors play a crucial role in displaying the live feed from the endoscope during an endoscopic procedure. Olympus provides medical-grade monitors that support various display modes and are compatible with advanced imaging techniques like NBI. These monitors are designed for optimal image quality, user comfort, and diagnostic accuracy.
5. Endoscope Reprocessor
An integral aspect of the Olympus Endoscopy Scope Tower is the automated endoscope reprocessor, which ensures the proper cleaning, disinfection, and sterilization of endoscopes between procedures. This critical component helps maintain patient safety and prevent cross-contamination by ensuring that endoscopes are consistently cleaned and disinfected according to established guidelines.
6. Trolley and Air-Water Sufflator
The compact trolley functions as a central workstation for performing and managing endoscopy procedures, while the air-water sufflator plays a key role in supplying air and water to the endoscope for optimal functioning.
Advantages of Olympus Endoscopy Scope Towers
Olympus Endoscopy Scope Towers offer numerous benefits to healthcare professionals and their patients in various clinical settings:
1. Superior Imaging Quality
One of the most significant advantages of Olympus Endoscopy Scope Towers is their unmatched imaging quality. Olympus' continuous investment in research and development has enabled them to develop advanced imaging techniques like NBI, which enhances the visibility of mucosal and vascular patterns, aiding in the early detection of various diseases such as cancers.
2. Ergonomics and Ease of Use
Olympus has designed its endoscopic systems with the comfort of healthcare professionals in mind. Their endoscopes feature advanced ergonomic designs, allowing for greater comfort during long procedures and reduced hand fatigue. Additionally, the easy-to-navigate controls and user-friendly interface simplify the operation of the endoscopy system and ensure smooth workflow during procedures.
3. Modular and Customizable
Every medical specialty and clinical setting may have unique requirements when it comes to endoscopy systems. Olympus Endoscopy Scope Towers are modular, allowing individual components to be easily added or removed as needed. This makes the system highly adaptable and scalable, ensuring that it meets the specific needs of various medical practices.
4. Commitment to Patient Safety
Ensuring patient safety is paramount in healthcare, and Olympus is committed to providing endoscopy solutions that are safe and reliable. Their automated endoscope reprocessors adhere to strict guidelines, ensuring that endoscopes are properly cleaned and disinfected after every use. Additionally, Olympus invests in rigorous quality control and customer support to ensure the optimal performance of their endoscopy systems.
5. Technological Advancements
Olympus is continuously developing new technologies that improve the performance and outcomes of endoscopic procedures. Innovations such as NBI and Dual Focus have significantly improved the diagnostic capabilities of endoscopes and offer physicians better tools for detecting and treating various conditions.
Olympus' Commitment to Innovation, Quality, and Support
Olympus values innovation and quality in its endoscopic solutions and stands firmly behind its commitment to creating state-of-the-art technology to enhance patient outcomes and medical professionals' experience. Its dedication to research and development allows Olympus to maintain its status as a leader in the endoscopy field, bringing new, groundbreaking technologies to the market.
The company also prioritizes exceptional customer service and support to ensure that its endoscopy systems function optimally and healthcare professionals can adequately address their patients' needs. This support consists of expert consultations, training, and reliable maintenance services to guarantee that Olympus Endoscopy Scope Towers continue to operate at peak performance.
Applications of Olympus Endoscopy Scope Towers in Different Medical Specialties
Olympus Endoscopy Scope Towers cater to various medical specialties through its range of endoscopes designed explicitly for different procedures and clinical settings. Some of the primary applications of these towers include:
1. Gastroenterology
Olympus provides a comprehensive range of endoscopes and endoscopic devices specifically designed for gastrointestinal procedures such as gastroscopy, colonoscopy, and endoscopic retrograde cholangiopancreatography (ERCP). These endoscopes offer advanced imaging technologies, such as NBI and Dual Focus, aiding in the detection and treatment of gastrointestinal diseases.
2. Urology
Olympus Endoscopy Towers are also highly suited for urological applications. A variety of endoscopes are available, catering to procedures like cystoscopy, ureteroscopy, and nephroscopy. These devices provide excellent visualization and precise control for urologists, allowing for accurate diagnosis and treatment of urologic conditions.
3. Gynecology
Endoscopy has become an indispensable diagnostic and surgical tool in gynecology, with Olympus offering a range of endoscopes specifically designed for gynecological procedures. Hysteroscopes, laparoscopes, and colposcopes are among the devices available, ensuring that gynecologists have access to the necessary technology for effective diagnosis and treatment of various gynecological conditions.
4. Pulmonology
In the field of pulmonology, Olympus delivers bronchoscopes and related devices tailored for procedures such as bronchoscopy and endobronchial ultrasound (EBUS). These tools provide pulmonologists with superior imaging capabilities and precise control during bronchoscopy procedures, enhancing diagnostic accuracy and therapeutic intervention outcomes.
5. Ear, Nose, and Throat (ENT)
Olympus Endoscopy Scope Towers also cater to the needs of otolaryngologists (ENT specialists) with a range of endoscopes designed specifically for procedures involving the ear, nose, throat, and related structures. This equipment enables ENT specialists to perform a wide variety of diagnostic and therapeutic procedures with optimal precision and image quality.
Purchase Olympus Endoscopy Scope Towers from Auxo Medical
If you are in need of Olympus Endoscopy Scope Towers, look no further than Auxo Medical. At Auxo Medical, we specialize in providing high-quality medical equipment to healthcare professionals. Our Olympus Endoscopy Scope Towers are known for their exceptional performance and durability, making them the perfect choice for any medical facility. Whether you are looking to upgrade your current equipment or are starting a new practice, we have a range of options to suit your needs. With our commitment to customer satisfaction and competitive pricing, Auxo Medical is the trusted choice for purchasing Olympus Endoscopy Scope Towers. View our catalogue of flexible and rigid scopes and scope towers online or contact us now for a customized quote.