The Importance of Surgical Headlamps in the Operating Room
Surgical Headlamps play a critical role in the success of any surgical procedure. They offer high-quality illumination and are designed to provide adequate lighting for intricate surgeries and procedures.
Proper illumination is essential for surgeons to accurately visualize the surgical site, identify anatomical structures, and perform complex procedures with precision. A high-quality surgical headlight is an essential tool that can help reduce the risk of errors during surgery while also improving patient outcomes.
Inadequate lighting can lead to errors that may result in prolonged surgery time, complications, or even fatalities. Without appropriate visibility into the surgical site, it becomes difficult for surgeons to identify critical structures or damage surrounding tissues unintentionally.
Surgical Headlights and Light Sources Available from Auxo Medical
Auxo Medical provides a wide array of of surgical lighting. This includes mounted OR lighting, surgical lighting stands, headlights as well as light sources. Here is just a few of the headlamps and surgical lighting products available at Auxo Medical.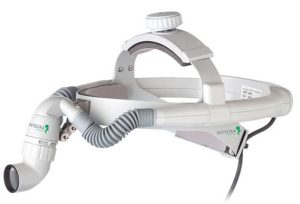 The Luxtec Integra LED headlamp package comes with the LED Headlight, Adjustable headband, 2 Lithium Ion Batteries, Battery Holster, Battery Charger, Operating Manual. Super light, super bright with a 25,000 hour lamp life and 4 intensity settings. The beam is variable spot and there is an integrated negative flow cooling fan in the headset. Completely portable with the two included batteries.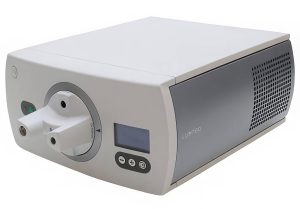 The Integra Luxtec MLX 300 is a xenon light source that delivers 300 watts of cool white infrared (IR) filtered light. The lamp is housed in a lamp module that can be easily serviced without special tools. The Luxtec MLX 300 is designed to supply high-intensity white light through a fiber optic cable for illumination of a surgical field during a surgical and/or medical procedure.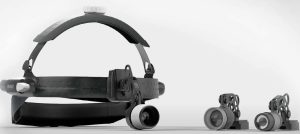 The MedLED Spectra is a versatile LED surgical headlight used across many specialties in the clinic or Operating Room (OR). This cordless headlight delivers optimum lighting, long-lasting battery life, and maximum wearing comfort, offering surgeons a better experience to confidently provide patient care. With advanced features like a patented padding system, the Spectra Headlight delivers the comfort needed to forget it's even there.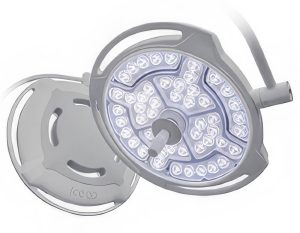 The iCE LED Surgical Lighting System comes in two light-head options – iCE 30M LED, with 30″ (762mm) diameter, 80 LEDs, 160,000 lux, 7.6″-12″ (193-305 mm) light pattern and laminar flow opening or iCE 25LED, with 25″ (635mm) diameter, 52 LEDs, 160,000 lux or 130,000 lux and 7.6″-11″ (193-279mm) light pattern. The iCE LED surgical lighting system was designed to illuminate with a bright, white light and an adjustable pattern size that creates a cool and comfortable surgical field. The Amico ceiling mount plate allows for easy installation for new or upgraded lighting.
Maintaining Your Surgical Headlamps and Lighting for Optimal Performance
Proper maintenance of your surgical headlamps and overall surgical lighting is essential for optimal performance and longevity. Neglecting maintenance can lead to decreased light output, reduced battery life, and premature wear and tear. By implementing a regular maintenance schedule, you can extend the life of your surgical headlights and ensure they are always performing at their best.
One important aspect of maintaining surgical lights is to regularly clean them after each use. This will help to remove any debris or fluids that may have accumulated during the procedure, preventing them from damaging the optics or reducing light output. You should also inspect the battery contacts on a regular basis and clean them if necessary to ensure proper contact with the batteries.
In addition, it is important to check the alignment of your surgical headlights periodically to ensure they are properly aligned with your line of sight. This will help to prevent eyestrain and fatigue during long procedures. Finally, be sure to store your surgical headlights in a cool dry place when not in use, away from direct sunlight or extreme temperatures.
By following these simple steps for maintaining your surgical headlamps and lights, you can maximize their performance and lifespan. Properly maintained surgical lighting not only provide better visualization during procedures but also save you money in repair costs down the road.
If professional maintenance or repair is needed, Auxo Medical has you covered there as well.  Our team of highly trained technicians is available to provide expert repairs and maintenance services for all of your medical equipment. Whether you need routine maintenance or emergency repairs, we are here to help. Our technicians have years of experience working with a wide range of medical equipment and are equipped with the latest tools and technology to ensure that your equipment is functioning at its best. We understand the importance of having reliable medical equipment, and we are committed to providing you with the best possible service to keep your equipment running smoothly. So if you need maintenance or repair services for your medical equipment, don't hesitate to contact Auxo Medical today.
Why You Should Choose Auxo Medical for Your Surgical Lighting Needs
Auxo Medical is a leader in providing high-quality, reliable surgical lighting for medical professionals. From OR lights to headlamps and light sources, Auxo Medical has you covered. We offer competitive pricing on surgical lighting, making it an affordable option for medical professionals looking to upgrade their equipment without breaking the bank. Furthermore, we provide a wide range of brands and models to choose from so that you can find the best fit for your specific needs.
Choosing Auxo Medical means choosing quality, reliability, affordability, and exceptional service and support. Don't settle for less when it comes to your surgical lighting needs – choose Auxo Medical today! View our online catalogue of surgical lights or contact us for a customized quote.