Welch Allyn Spot Vital Signs LXi Monitor
Setting new standards in convenience, efficiency, and accuracy, the Welch Allyn Spot Vital Signs LXi Monitor is a cutting-edge medical device designed to streamline patient care and improve the quality of clinical assessments. Ideal for fast-paced healthcare facilities, this state-of-the-art monitor offers spot checking and continuous monitoring capabilities, providing medical professionals with rapid access to vital patient data when it matters most.
Key Features:
All-in-one solution: The Welch Allyn LXi Monitor measures essential vital signs, such as blood pressure, pulse rate, temperature, and SpO2 (oxygen saturation), enabling practitioners to make quick and informed clinical decisions.
Flexible configurations: Customizable setups allow healthcare professionals to choose the components they need, including SureBP, Pulse Oximetry, and SureTemp Plus or Braun ThermoScan PRO 4000 Ear Thermometry options.
Intuitive user interface: A large, full-color touchscreen with adjustable backlight ensures seamless operation and easy navigation, even under low-light conditions.
Efficient data management: The LXi Monitor comes with built-in wired ethernet and optional Wi-Fi capabilities, allowing for seamless data transfer to Electronic Medical Records (EMRs), thus streamlining documentation and reducing clerical errors.
Fast and accurate measurements: With Welch Allyn's SureBP technology, the LXi Monitor provides accurate blood pressure readings in just 15 seconds, and the various temperature measurement options give reliable results in as little as 4 seconds.
Portable and compact design: The lightweight design and carrying handle make it easy for medical personnel to transport the LXi Monitor throughout a healthcare facility, ensuring vital signs monitoring is always close at hand.
Durable and robust: The Spot Vital Signs LXi Monitor is built to withstand the rigors of daily clinical use, providing consistent and reliable results for years to come.
Elevate the standard of patient care at your healthcare facility with the Welch Allyn Spot Vital Signs LXi Monitor. Experience unparalleled convenience, efficiency, and accuracy in vital signs monitoring, empowering medical professionals to deliver an exceptional level of healthcare.
Product Details
Refurbished Welch Allyn Vital Signs LXi:
SpO2, BP, Temp
Manual weight, height, respiration rate, and pain level entry
Compatible with select digital scales
Calculates Body Mass Index
50-reading memory
Connectivity-ready
Fast, accurate, flexible, easy to use
---
Stryker Cast Saw with Vacuum
Stryker 940 Cast Cutter & 986 Cast Cutter Vacuum Combo
Introducing the highly efficient Stryker 940 Cast Cutter & 986 Cast Cutter Vacuum Combo, the ultimate solution for medical facilities requiring a robust and reliable cast removal system. Designed with precision and performance in mind, this combo works in harmony to provide a comfortable and safe cast removal experience for patients.
Stryker 940 Cast Cutter:
The Stryker 940 Cast Cutter is a state-of-the-art cast cutting tool, engineered to deliver precision and power in a compact design. Its key features include:
Ergonomic handle: Designed to provide a comfortable, non-slip grip for medical professionals, ensuring accuracy and control throughout the cast removal process.
Quiet operation: A low-noise motor reduces patient anxiety during cast removal, creating a more soothing experience.
Dual-speed control: Two-speed settings allow medical staff to adjust the cutting power to match the thickness and material of the cast, optimizing performance and safety.
Durable construction: Constructed with high-quality materials to guarantee a long-lasting, reliable tool that withstands the rigors of daily usage.
Stryker 986 Cast Cutter Vacuum:
The Stryker 986 Cast Cutter Vacuum is a powerful and efficient vacuum system, specifically designed to work in tandem with the Stryker 940 Cast Cutter for a cleaner cast removal process. Its main features are:
Efficient debris removal: As the Stryker 940 Cast Cutter slices through casts, the 986 Vacuum efficiently removes debris and dust, ensuring a clean work area for medical practitioners and enhanced patient comfort.
Automatic activation: Synchronized with the Stryker 940 Cast Cutter, the vacuum automatically starts when the cast cutter is turned on for seamless operation.
Compact and portable: The lightweight and compact design of the vacuum ensures that it is easy to maneuver, store, and transport between various locations in a healthcare facility.
Long-lasting filter system: The 986 Cast Cutter Vacuum's durable filters ensure long-term efficiency, keeping maintenance costs to a minimum.
Upgrade your cast removal experience with the Stryker 940 Cast Cutter & 986 Cast Cutter Vacuum Combo and provide the utmost in comfort and reliability for both patients and medical professionals.
Product Details
Reconditioned Stryker 940 Cast Cutter and 986 Cast Cutter Vacuum combo.
Saw:
Dual speed cutting to meet varied cast removal needs
Compact design to enhance maneuverability
Three blades to fit multiple casts types
Total compatibility with the 986 Cast Vac
Option of operating independently of the 986 Cast Vac
Vacuum:
Quick and easy filter replacement
Wheeled stand for mobility
---
Zimmer ATS 2000 Automatic Tourniquet System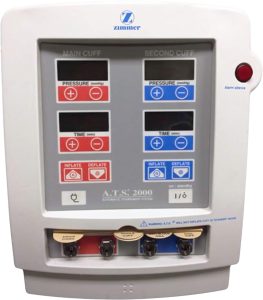 Introducing the Zimmer ATS 2000, an innovative and versatile tourniquet system designed to elevate surgical care and enhance patient safety in modern healthcare facilities. Engineered for exceptional performance, reliability, and ease of use, this state-of-the-art tourniquet system simplifies surgical procedures while delivering precise and consistent pressure control that medical professionals can trust.
Key Features:
Accurate Pressure Control: The Zimmer ATS 2000 employs advanced microprocessor technology to maintain constant and precise pressure throughout surgical procedures, reducing complications and promoting better patient outcomes.
Dual Cuff Management: Equipped with two independent tourniquet channels, the ATS 2000 enables simultaneous management of two cuffs, permitting the use of Bier Block procedures or providing an added layer of safety and efficiency in surgical settings.
Customizable Presets: Easily configure and store up to six custom pressure presets, allowing medical professionals to quickly recall their preferred settings for different procedures or patient populations.
User-friendly Interface: A clear, large LED display and simple controls facilitate easy navigation and adjustment of pressure settings, ensuring user convenience and optimal performance during even the most time-sensitive procedures.
Self-Check Calibration: The ATS 2000 features an automatic self-check calibration to verify its accuracy and proper function, fostering confidence in its operation and streamlining clinical workflows.
Built-in Safety Alarms: The system is designed with audible and visual alarms, promptly alerting users of any sudden changes in pressure or potential malfunctions, ensuring prompt and efficient resolution of issues.
Compact and Portable Design: With a lightweight build and compact dimensions, the Zimmer ATS 2000 can be easily transported, providing flexibility and adaptability to any healthcare environment.
Invest in the Zimmer ATS 2000 Automatic Tourniquet System and experience the benefits of advanced technology, precise pressure control, and unparalleled ease of use. Elevate your surgical practice, enhance patient safety, and improve overall outcomes with this industry-leading tourniquet solution.
---
Midmark Ritter M9 Ultraclave Automatic Sterilizer
Improve the efficiency and reliability of your sterilization process with the Midmark Ritter M9 Ultraclave Automatic Sterilizer. This compact, yet efficient, benchtop sterilizer is esteemed to provide optimal sterilization solutions for any healthcare setting. Its advanced design and meaningful features make it a leading choice among healthcare professionals for sterilizing instruments and materials.
Key Features:
Automatic Door: The Ritter M9 features an automatic door that gently opens when the sterilization cycle is complete. This unique feature helps to facilitate drying and makes it safer and more efficient for the operator.
Reliable Sterilization: With its proven sterilization technology, the M9 ensures the elimination of bacteria and viruses, promising your medical instruments are completely sterile.
Efficient use of Space: The compact size and large capacity chamber of the M9 ensure optimal space utilization. It can hold up to four large trays for efficient sterilization without taking up excessive countertop space.
Intuitive Display: A bright, easy-to-use LED display illuminates cycle selection, temperature, and exposure time. This information-rich display allows for easy monitoring and control of the sterilization process.
Versatile Cycle Options: The Ritter M9 offers a variety of cycle selections, including unwrapped, pouch, packs, and handpiece cycles, allowing you to customize the sterilization process based on the specific needs of your instruments.
Safety Centric Design: Engineered with overheating protection and featuring a door locking mechanism during cycles, the M9 prioritizes user safety while maintaining efficiency.
Upgrade your clinical operations with the Midmark Ritter M9 Ultraclave Automatic Sterilizer, the ultimate solution for uncompromising sterilization. Experience impressive performance, exceptional reliability, and enhanced safety with this state-of-the-art sterilizer.
---