What are Hydrogen Peroxide Sterilizers?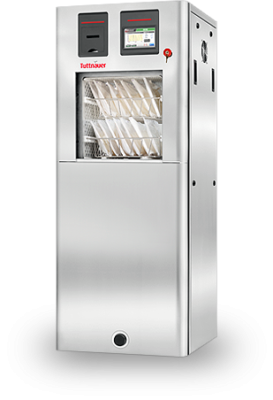 Hydrogen Peroxide Sterilizers are a type of sterilizer used to kill bacteria, viruses, fungi, and other microorganisms in healthcare settings. This sterilization method is widely used in hospitals, laboratories, and other medical facilities. It is a safe, effective, and economical way to sterilize medical instruments and surfaces. They use hydrogen peroxide to kill microorganisms. This chemical is highly reactive and breaks down quickly into oxygen and water, leaving no residue behind. It is also non-toxic and safe for humans and the environment.
Hydrogen peroxide sterilizers work by releasing an activated form of hydrogen peroxide into the air. This form of hydrogen peroxide is highly reactive and it reacts with the proteins and nucleic acids of microorganisms, causing them to be destroyed. The process is quick and efficient and can take as little as 30 minutes to complete.
The advantages of using Hydrogen Peroxide Sterilizers are numerous. They are highly effective against a wide range of microorganisms, they are safe and non-toxic, and they are inexpensive compared to other sterilization methods. Additionally, they are fast and easy to use and require no special training or equipment and are highly effective and safe, making them a popular choice for sterilizing medical instruments and surfaces.
What are the Benefits of Hydrogen Peroxide Sterilizers?
Hydrogen peroxide sterilizers offer a number of benefits that make them a great choice for many medical facilities. These sterilizers are incredibly effective at killing bacteria, viruses, and other microbes, making them a great choice for sterilizing surgical instruments, medical equipment, and other items. They are also relatively safe to use, with low toxicity levels and no hazardous byproducts. Hydrogen peroxide sterilizers are also very cost-effective and require a minimal amount of energy to operate.  Additionally, they are easy to use and maintain, making them an ideal choice for busy medical facilities.
Refurbished Medical Sterilizers
Refurbished medical sterilizers offer a number of benefits to healthcare providers. With a refurbished medical sterilizer, hospitals, clinics, and other healthcare facilities can reduce costs and increase efficiency. These sterilizers feature the same high-quality components and parts as new models, but at a fraction of the cost. Refurbished medical sterilizers also save on energy costs as they are designed for energy efficiency. Refurbished medical sterilizers also provide quick turnaround times for sterilization, ensuring that medical instruments and other materials are ready for use quickly. As a result, healthcare providers are able to serve patients more effectively and efficiently.
The Importance of Regular Maintenance on Your Sterilization Equipment
Regular maintenance on your sterilization equipment is essential in order to keep it operating at peak efficiency. Regular maintenance allows for early detection of any potential issues, which can help reduce downtime and prevent costly repairs. It also helps extend the life of your equipment, ensuring it lasts for as long as possible. Furthermore, regular maintenance helps ensure that your equipment is always producing quality results, which is critical for meeting safety regulations and industry standards. In short, regular maintenance on sterilization equipment is an invaluable investment that should not be overlooked.
A preventative maintenance plan for your sterilizers with Auxo Medical can be incredibly beneficial. The plan includes regular inspections and services by qualified technicians, as well as access to parts and technical support. This can help reduce the need for costly repairs, as well as ensuring that your sterilizers are running efficiently and reliably. Auxo Medical also offers a range of other services, such as performance testing, calibration, and preventive maintenance, so you can be sure that your sterilizers are always in good working order. With the help of Auxo Medical, you can be sure that your sterilizers are always running smoothly, reliably, and safely.
Auxo Medical is the premier source for purchasing hydrogen peroxide sterilizers and providing preventative maintenance to ensure their proper operation. Their sterilizers are designed to provide a safe and effective way to sterilize medical instruments and tools, and their preventative maintenance services ensure that the sterilizers remain in excellent working condition. With their reliable products and services, Auxo Medical is the ideal choice for healthcare professionals looking to purchase hydrogen peroxide sterilizers and keep them in top condition. View our catalogue of sterilizers or request a preventative maintenance or repair quote.