Anesthesia equipment repair and maintenance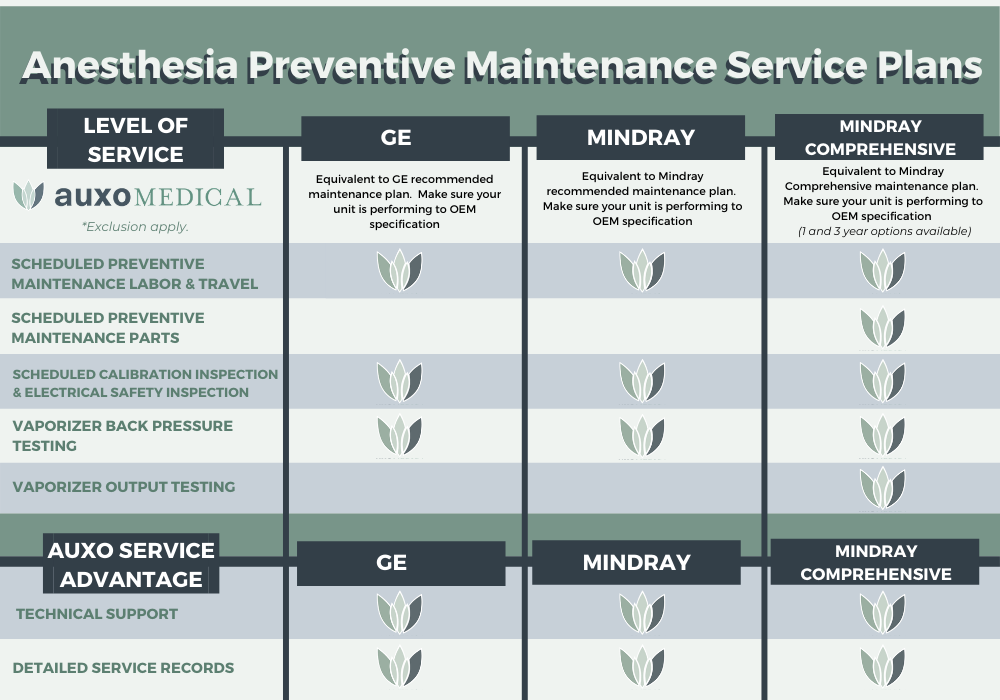 Are you in need of reliable and safe anesthesia equipment repair and preventative maintenance services? Look no further than Auxo Medical! We offer a broad range of services – from inspection to comprehensive maintenance plans – to ensure your anesthesia equipment is in proper working condition.
Our highly trained and certified technicians are GE and Mindray certified, so you can be sure that your anesthesia equipment needs are taken care of. We understand that every facility and budget is unique, so we strive to customize a preventative maintenance agreement that meets your specific needs. That way, you can rest assured knowing that your anesthesia equipment is in good working order.
Auxo Medical is dedicated to providing the best possible service. We are well-versed in the proper maintenance of anesthesia equipment and have the necessary skills and experience to ensure that your equipment is functioning properly. We understand the importance of keeping anesthesia equipment up-to-date and in good working order, and we are here to help make sure that happens.
Whether you're in need of an inspection or a comprehensive maintenance plan for your anesthesia equipment, Auxo Medical is here to help. We take pride in offering top-notch services that you can rely on. Contact us today to learn more about our services and to get started on the path to a safe and reliable anesthesia equipment maintenance plan.