Discover New & Refurbished Anesthesia Machines Offered by Auxo Medical
Auxo Medical provides anesthesia machines from top manufacturers. These machines offer unparalleled performance and deliver the highest level of care to patients. In addition these anesthesia machines are designed to be fast and precise, minimizing the risk of complications during procedures. They are also user-friendly, with easy-to-use interfaces that allow for quick and easy adjustment of settings. Below are some of the top machines sold by Auxo Medical.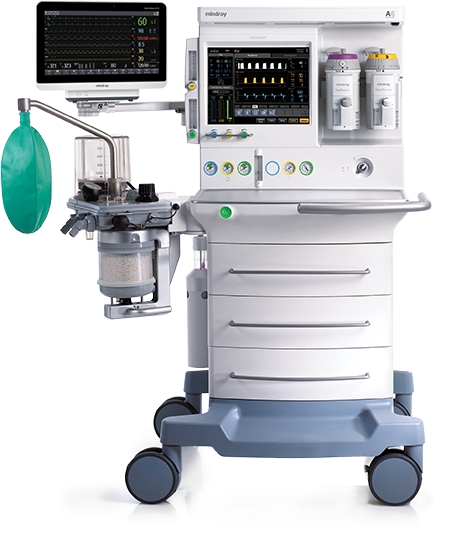 The Mindray A4 Advantage Anesthesia System is a cutting-edge medical device that revolutionizes the field of anesthesia. This system is equipped with advanced features and technologies that ensure patient safety and comfort during surgical procedures. The A4 Advantage Anesthesia System offers a user-friendly interface and intuitive controls, allowing anesthesiologists to efficiently and accurately deliver anesthesia. Additionally, this system is equipped with comprehensive monitoring capabilities, including vital signs, gas analysis, and anesthesia agent monitoring. With its compact design and modular components, the Mindray A4 Advantage Anesthesia System is versatile and adaptable to various clinical settings. This innovative system provides healthcare professionals with the tools they need to deliver optimal anesthesia care and enhance patient outcomes.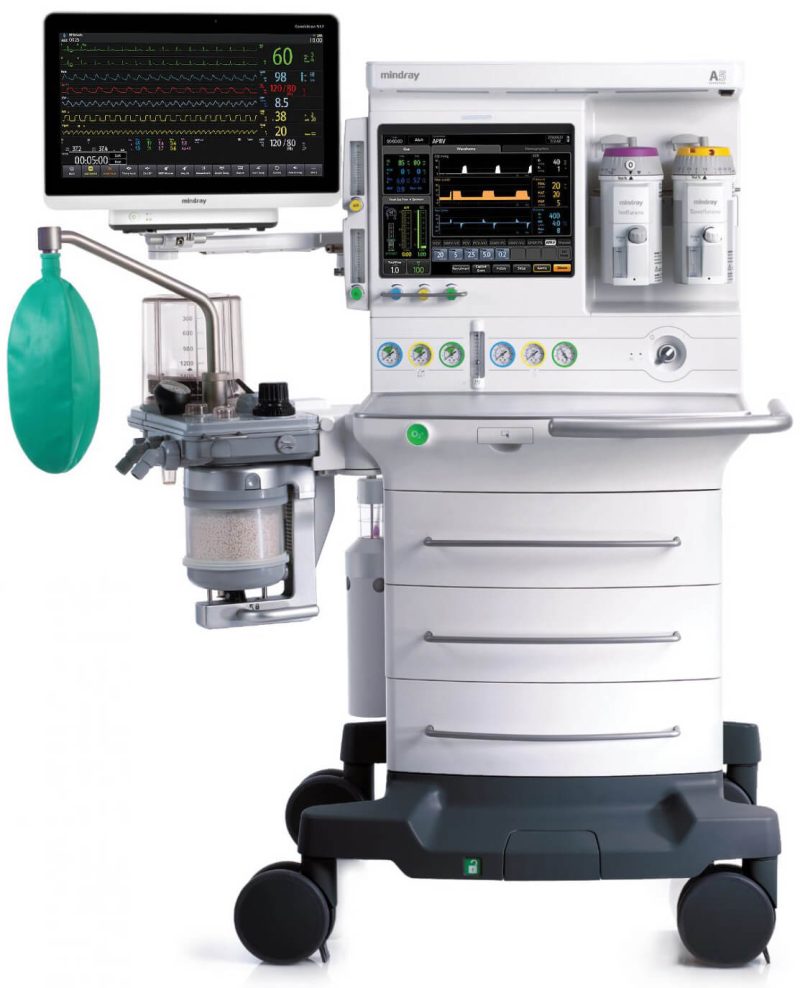 The Mindray A5 Anesthesia Machine is another key piece of equipment tin he field of anesthesia. With its advanced features and intuitive design, this machine provides healthcare professionals with the tools they need to deliver safe and precise anesthesia to patients. The Mindray A5 boasts a comprehensive monitoring system that continuously tracks vital signs, such as blood pressure, heart rate, and oxygen saturation levels, ensuring optimal patient care. Additionally, this machine offers a variety of ventilation modes, allowing anesthesiologists to customize treatment plans to meet individual patient needs. With its user-friendly interface and innovative technology, the Mindray A5 Anesthesia Machine is undoubtedly a game-changer in the medical industry.
The Mindray A5 Anesthesia Machine provides today's clinicians with a variety of advanced ventilation modes, an easy-to-use interface and an ergonomic design. The A5 features a 15″ touch screen that allows operators to navigate easily between ventilation modes, allowing caregivers to spend more time with patients. The A5 is capable of outputting data in HL7 protocol, the industry-recognized format for EMR systems.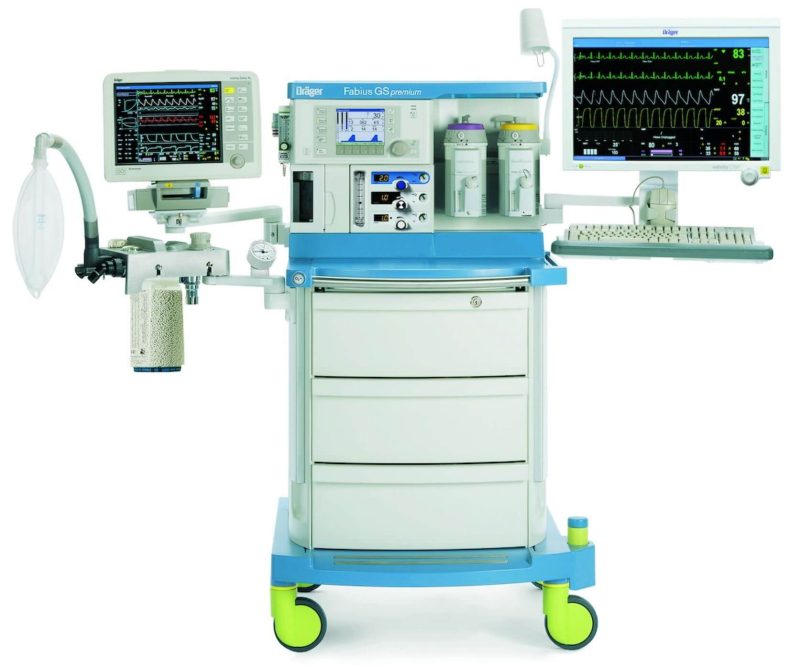 The Dräger Fabius GS Premium is a state-of-the-art anesthesia workstation that provides exceptional performance and reliability in the operating room. This advanced machine is equipped with a wide range of features and technologies that enhance patient safety and optimize workflow efficiency. With its integrated ventilation system, the Fabius GS Premium offers precise control over oxygen, nitrous oxide, and other gases, ensuring accurate delivery to patients. The workstation also incorporates advanced monitoring capabilities, allowing healthcare professionals to closely monitor vital signs and adjust anesthesia levels accordingly. Additionally, the Fabius GS Premium boasts an intuitive user interface and ergonomic design, making it easy and comfortable to use for medical staff. Overall, this anesthesia workstation sets a new standard in anesthesia care, providing healthcare professionals with the tools they need to deliver safe and effective anesthesia to patients.
The Dräger Fabius GS premium now combines solid design and modular architecture with a wide range of ventilation capabilities that cover most operating room applications, delivering exceptional performance, value and flexibility.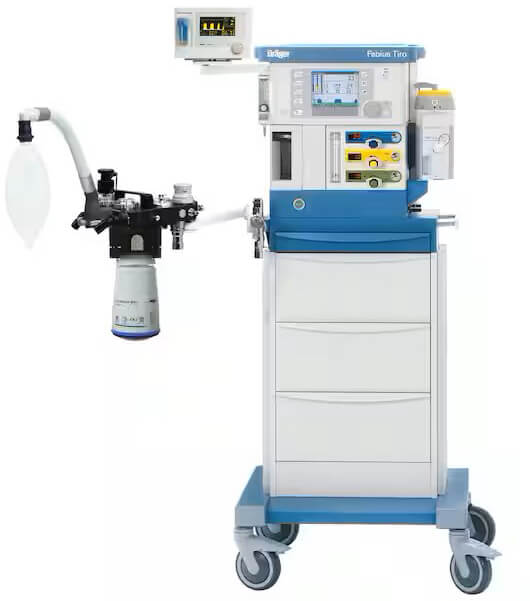 The Dräger Fabius Tiro is designed to enhance patient safety and provide optimal functionality for healthcare professionals. This machine is equipped with advanced ventilation modes and integrated monitoring capabilities, ensuring precise control and accurate readings during surgery. The user-friendly interface and intuitive design make it easy for medical personnel to operate and customize settings according to individual patient needs. With its compact size and mobility, the Dräger Fabius Tiro allows for efficient utilization of space in operating rooms while maintaining high performance. This anesthesia machine has become a popular choice among healthcare facilities worldwide due to its reliability, precision, and commitment to patient well-being.
At its core, the Fabius Tiro anesthesia machine features our powerful and accurate E-vent piston ventilator, which gives you the ability to handle a wide range of acuity levels. Its compact design makes it a natural choice for applications where you need to get the most of the available room without having to compromise on features or flexibility. With a wide array of options to choose from, the Fabius Tiro can be customized to suit your needs and even be upgraded when those needs change.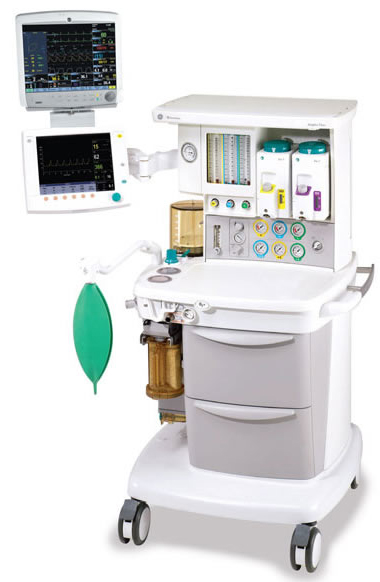 The GE Aespire 7900 Ventilator View Anesthesia Machine is designed for use during anesthesia procedures. This machine features a user-friendly interface, allowing healthcare professionals to easily monitor and adjust various ventilation parameters. Equipped with advanced ventilation modes and integrated monitoring capabilities, the Aespire 7900 ensures optimal patient care and safety. Its compact design and portability make it suitable for use in various healthcare settings, including operating rooms and intensive care units. With its cutting-edge technology and reliable performance, the GE Aespire 7900 Ventilator View anesthesia machine is a trusted tool for anesthesiologists and healthcare providers worldwide.
Aespire View offers a large, 12-inch color ventilator display and features GE's Advanced Breathing System (ABS), which is well-suited for low flow anesthesia. The Optional Total Flow Sensing module electronically measures, displays, and exports both individual gas flow and total fresh gas flow to help manage costs.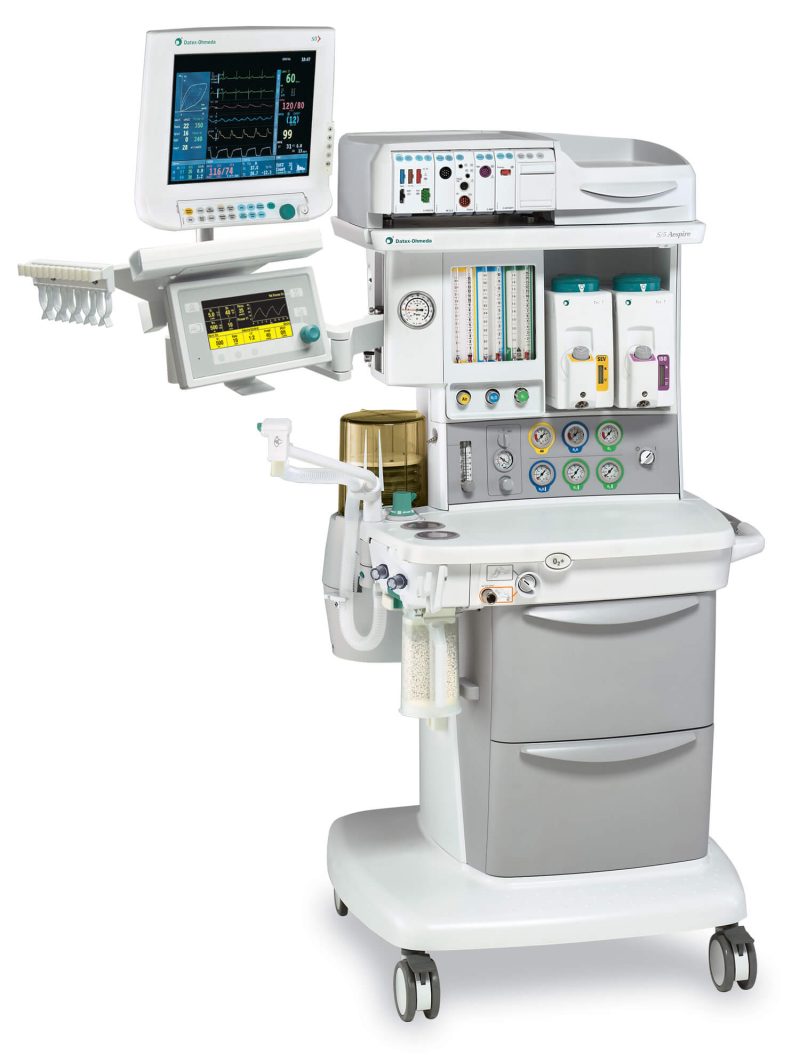 The GE Aespire with 7900 SmartVent is an innovative anesthesia machine that combines advanced technology with user-friendly features. This machine is designed to provide precise and reliable delivery of anesthesia gases to patients. The SmartVent system enables the anesthesiologist to easily control and adjust the ventilation settings to ensure optimal patient comfort and safety. With its intuitive interface and customizable settings, the Aespire with 7900 SmartVent allows for seamless integration into any operating room environment. This machine is equipped with various safety features, such as an integrated monitoring system and alarms, to ensure the highest level of patient care. Overall, the GE Aespire with 7900 SmartVent is a cutting-edge anesthesia machine that enhances the efficiency and effectiveness of anesthesia delivery.
You asked for sophisticated ventilation capabilities that help you meet the needs of the full patient range: neonates, trauma, compromised and routine cases. The S/5 Aespire 7900 SmartVent satisfies your request with the 7900 SmartVent ventilator.
Why Hospitals, Clinics and Surgery Centers Nationwide Trust Auxo Medical for Anesthesia Equipment
Auxo Medical has earned a reputation for providing high-quality anesthesia equipment that meets the needs of medical facilities nationwide. We are committed to providing the best possible customer service, working closely with these locations to ensure their equipment runs smoothly and effectively. Auxo Medical's equipment is also backed by excellent warranties as well as available Preventative Maintenance Plans. With a team of knowledgeable technicians on call 24/7, for emergency repairs, medical professionals can rest assured knowing that if any issues arise, they will be taken care of promptly and professionally.
From Ventilators to Monitors: Auxo Medical has Every Solution for Anesthesiologists
Anesthesiologists need a variety of equipment to perform their jobs effectively, from ventilators to patient monitors. Auxo Medical offers a wide range of solutions for every aspect of anesthesia care. They have equipment that helps manage the airway, control patient ventilation, and monitor vital signs. Some of the equipment offered by Auxo Medical includes the Maquet Servo-i Universal ventilator, Mindray DPM 7 anesthesia/patient monitor, and Mediboom Pendant System Tandem Mounted Fixture. With this equipment on hand, anesthesiologists can provide the highest level of care to their patients.
Unmatched Quality and Service from Auxo Medical
Auxo Medical provides unmatched quality and service for anesthesia equipment. We have a skilled team of professionals who can provide guidance on choosing the right equipment for each facility's needs. In addition, we also offer ongoing preventive maintenance plans to ensure your equipment continues to function properly. With our commitment to quality, service, and customer satisfaction, Auxo Medical is the go-to choice for hospitals, clinics and surgery centers nationwide. View our available anesthesia machines online or contact us today for a customized quote.