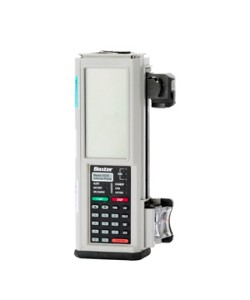 Baxter AS50 Syringe Pump
The Auto Syringe AS50 Infusion Pump is designed to meet the fluid and drug delivery requirements of today's changing clinical environment. It provides accurate, continuous or intermittent infusion of intravenous solutions, drug solutions, whole blood, and packed red blood cells. The pump is indicated for infusion via intravenous (IV), intra-arterial (IA), epidural, or subcutaneous routes of administration. It can be piggybacked into an ongoing infusion line to deliver secondary solutions automatically, precisely, and economically.
Infusion rates are programmable from 0.01 to 438 mL/hr. The pump accepts standard disposable syringes from 1 mL to 60 mL in size. A numeric keypad simplifies programming and makes the pump easy to use. During programming, the status display prompts the user to enter data about the syringe and the infusion. While the pump is running, the status display shows information about the infusion. Safety and effectiveness are reinforced by pre-programmable bolus operation, titration of a dose without interruption of fluid flow, and easily understood alarm and alert messages. The pump includes an optional serial communication feature, which provides remote computer control and monitoring capabilities. A standard 9-pin connector allows an RS-232 communication link between the pump and the host computer.
Product Features:
Digital syringe pump
Standard disposable syringes from 1mL to 60mL
Features flexible drug libraries
Provides accurate infusion of intravenous solutions, drug solutions, whole blood, and packed blood cells
Indicated for the following routes of administration: intravenous, intra-arterial, epidural or subcutaneous