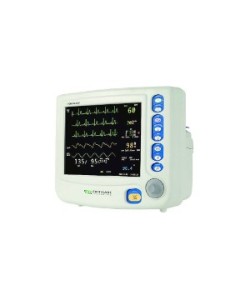 Criticare nGenuity Patient Monitor w/ Printer
The nGenuity 8100EP1 series patient monitor displays true end-tidal CO2 with numerical ETCO2 and INCO2 values as well as capnographic waveform. A smart respiration feature automatically defaults to the best available source, either CO2 or ECG TTI. The advanced design capnometer module is accurate with breath rates up to 120 breaths per minute. Flow rate is set at 200 mL per minute for exceptionally fast response. A rise time responsiveness within 170 milliseconds provides outstanding waveform display. The capnometer modules uses sidestream sampling and Criticare's patented WaterChek water traps to remove moisture without distortion to the CO2 waveform. The water traps have a large 22 mL reservoir and full occlusion clearing capability unlike many other CO2 monitoring systems. Compact and lightweight, the nGenuity 8100E1 series patient monitor can monitor adult and pediatric patients in virtually every department – at bedside or in transit. The innovative user interface features simplified menus and dedicated function keys for timely set-ups. The big, bright display with large numerics can easily be seen, even from across the room. The nGenuity 8100EP1 series patient monitor mounts quickly and easily to walls and roll stands
STANDARD: , ECG, ComfortCuff NIBP, DOX SpO2, HR, Temperature, Respiration and Nurse Call interface connection.
Mini-Trends can display condensed tabular vital signs data to show recent monitoring activities.
Compatible with popular Electronic Medical Records (EMR) systems for both large facilities and small offices.
Easy-to-read 10.4 TFT color display.
Easy to learn, easy to use – simplified menus and dedicated function keys.