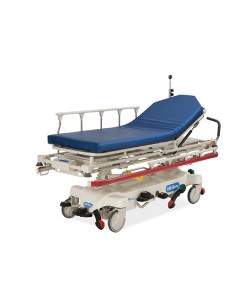 Hill-Rom TranStar P8040
With its 700 lb weight capacity, our Transport Stretcher is an economical solution to help accommodate all patient conditions as well as your needs in this uncertain environment.
A rush to the operating room is not just about running down hallways and turning corners. It's about the minute details that contribute to a safe and comfortable experience for both you and your patient.
317.5 kg (700 lb) weight capacity
Integrated dual display scale (lbs/kgs simultaneously)**
Full-length X-ray lift platform accepts all standard-size X-ray cassettes and grids
Upright chest X-ray cassette holder
Active hand brake*
Integrated IV pole transport device helps to maneuver stretcher and a portable IV pole with ease
Next generation Steering Plus system for crisp cornering and control
Dual-locking four-wheel brakes for a strong, stable platform
Power washable
Integrated IV pole transport device
Brake/Steer pedals – head and foot
Brake/Steer pedals – all four sides
Next generation Steering Plus system
Ergonomic push handles
Permanent IV pole Ð 3 stage*
66 cm (26″) width
Foot end hi/lo hydraulic pedals
Radiolucent deck
Zero transfer gap tucking siderails