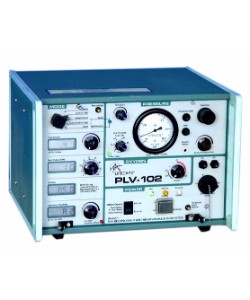 Respironics PLV-102 Ventilator
Respironics LifeCare PLV-102 Ventilator (with internal oxygen blender) – The LIFECARE PLV-102 is a microprocessor controlled, electrically powered portable volume v ntilator that may also be pressure limited. Specifically designed for long-term use in the home, it is equally suitable for transport, short-term and institutional use. The ventilator is small and lightweight and will operate using a 12 volt DC external battery as well as 120 volt AC power. Reliability, versatility, and ease of operation are all hallmarks of this machine, making it the ideal choice for this setting.
The ability of the PLV-102 to ventilate a wide range of patients makes it the clinicians' choice for portable ventilation. Low flow rates (10 L/min) and low tidal volume (50 ml) allow for ventilation of pediatric patients, too. Additionally, adult patients with increased minute ventilation demands can be effectively ventilated with peak flow availability up to 120 L/min.
Digital Displays:

Tidal Volume
I:E Ratio
Respiratory Rate
InspiratoryFlow Rate
Alarm Interface Capabilities:

Remote Alarm
Pressure Alarm
Hospital/Nurse Call System
Three Modes Of Operation:

Control
Assist-Control
Spontaneous Intermittent Ventilation (SIMV)
Multiple Power Sources:

120 VAC/240 VAC
12 VDC external capabilities (up to 20 hours)
Internal battery (1 hour fully charged)