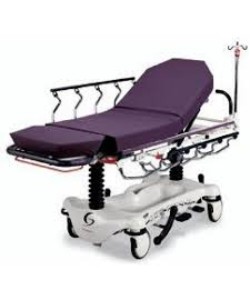 Stryker Renaissance 1061 Gynnie OB/GYN Stretcher
The Stryker Gynnie incorporates smart engineering to create a solution that is exceptionally easy to use. Innovative features and intuitive operation combine to not only promote usefulness, but also add efficiency in a wide range of applications.
Gynnie combines the trademark durability and features of a standard Stryker stretcher with supreme OB/GYN functionality. Ideal for pelvic exams and general use, this multi-functional stretcher can outfit an entire ER department.
500 Lbs. Weight Capacity
26″ x 77″ Patient Surface
0-90° Fowler, ±19° Trendelenburg/Reverse Trendelenburg
Central Brake & Steer With Retractable Fifth Wheel Steering
Foot Controlled Hydraulic Positioning
Permanent Foot Section & Permanent Attached Foot Supports
Molded Footrest With Versatile Positioning
Glideaway Siderails
02 Tank Holder
3 IV Pole Receptacles
New Mattress
Overall Length: 81.5″
Overall Width: 31.5″ (Side Rails Up)
Overall Width: 26.75″ (Side Rails Down)
Height: (Maximum) 36″
Height: (Minimum) 22.5″
Patient Surface: 26″ x 77″
Side Rails: 13″ x 39″