Nanotouch (formerly known as Nanoseptic) surfaces can self-clean by using light. When indoor or outdoor light hits a Nanotouch surface, it triggers an oxidation process that breaks down organic contaminants. There are various ways to use self-cleaning technology – put it on handrails, door knobs, or elevator buttons. Auxo Medical carries many Nanotouch (Nanoseptic) products that can help keep your facility clean.
6 Reasons To Use Nanotouch Products From Auxo Medical
Whether you work in a hospital, laboratory, or any building, using Nanotouch products can help keep it clean. These self-cleaning products help show your commitment to cleanliness and offer a healthy and easy way to reduce germs.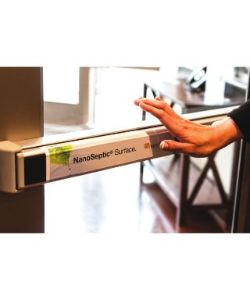 Self-cleaning
One of the top benefits of Nanotouch products is that they are self-cleaning. After opening and applying the product to a surface, it will begin to break down organic contaminants. This means that when someone touches the product, the technology can break down the germs left behind. Staff should remove visible dirt and grime from the surface for it to work as intended, but the technology can help do the rest.
Easy Installation
The backs of these self-cleaning products are sticky, making them easy to apply and install. Using a self-cleaning surface is much like applying a sticker to a surface. Remove the product's backing, apply it, and smooth it down. Clean and smooth surfaces work best, but you can apply the product anywhere.
Versatile
We have many different product options that you can apply to various high-touch surfaces. There are products made specifically for handrails, elevator buttons, and even touchscreens. If you have a large coverage area, you can buy sheets that allow you to cut any shape or size.
Long-lasting
Most Nanotouch products last for 90 days. To help the product last the full 90 days, we recommend using a soft cloth and water to wipe down the surfaces daily if possible. This keeps large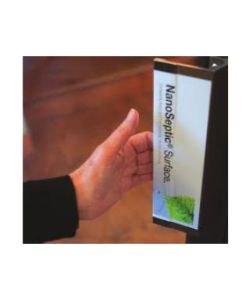 contaminants off of the surface and can help the product do its job for longer. In especially high-touch areas, you may need to replace the product more often, but other areas can use the product for up to 90 days.
Safe
Self-cleaning technology does not use any chemicals, heavy metals, or poisons to break down organic contaminants. Products have also been reviewed and certified by EPA and FDA-approved lab studies. Other associations, such as the International Facility Management Association, also approve of this self-cleaning technology. 
Shows Your Commitment to Cleanliness
Even if you are rigorous with your cleaning schedule, many guests or patients do not know if you are keeping your facility up to the highest standards. Help guests avoid this unnecessary anxiety but installing self-cleaning products. Nanotouch products specify that they are a self-cleaning surface, so people will know that you take their health and safety seriously.
Auxo Medical carries many self-cleaning products to help keep your facility clean and safe. Here are a few of the Nanotouch products that we carry:
Nanotouch clear film can be placed over touchscreens without interfering with the screen's functionality. This transparent film helps keep germs off of heavily used touchscreens. Simply peel the back off of the film and apply it over the touchscreen for it to begin working. This film can be used for kiosks, iPads, and any other touchscreens you use in your facility.
Auxo Medical has options for every type of door handle. We have plastic sleeves that easily slip over ADA door handles. We also have wraps for other kinds of handles and push pads for doors that you push open.
If you want to apply self-cleaning technology to an irregular surface and we do not carry a product that was designed specifically for that area, then a self-cutting sheet might be your best option. These sheets are also jumbo-sized, so you can use them to cover large areas.
These clear plastic covers can be placed over elevator buttons to help keep public elevators clean.
We have desk and counter mats in a variety of sizes. Our counter mats also feature a clear pocket on the front so that you can place content like a promotion or a calendar inside. These mats are great for personal desks, counters, reception areas, and physician exam rooms.
If you want to make your facility cleaner for your patients, visitors, and employees, consider using Nanotouch products from Auxo Medical. While Nanotouch products should not replace other cleaning and infection control practices that you have in place, the technology can be great for managing high-touch surfaces that cleaners cannot keep up with. It can also assure visitors that you are committed to their health and safety. Check out Auxo Medical's inventory of Nanotouch products to help keep your facility clean.