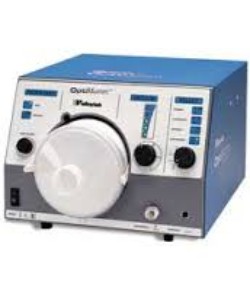 Valley Lab Force Optimumm Smoke Evacuator Unit
The OptiMumm Smoke Evacuator is the centerpiece of a complete smoke evacuation system when used with the AccuVac Smoke Evacuation attachment, Valleylab's Universal Mounting System, and either the Force FX Electrosurgical Generator or the Force EZ Electrosurgical Generator.
Quiet: The ValleyLab OptiMumm System allows you to effectively filter and remove surgical smoke without creating additional noise in the OR.
ValleyLab RapidVac System: Synchronize the ValleyLab OptiMumm Smoke Evacuator with your electrosurgical generator, so the smoke evacuator will work automatically when the generator is activated.
Efficient: The ValleyLab OptiMumm Smoke Evacuator is designed specifically for use with the ValleyLab AccuVac Smoke Evacuation attachment to effectively capture and filter smoke directly at the surgical site.
Convenient: The ValleyLab OptiMumm System is designed with an easy to read front panel and a user-friendly interface. The ULPA and prefilter are easy to access and set up.
Compact: The ValleyLab OptiMumm Smoke Evacuator integrates conveniently into the OR. The system fits directly on most Valleylab mounting carts, saving valuable OR space.
User-Friendly: The filter life indicator is based on airflow, not just time, so you know when to replace the ULPA filter.