What is a Washer-Disinfector and Why is it Important?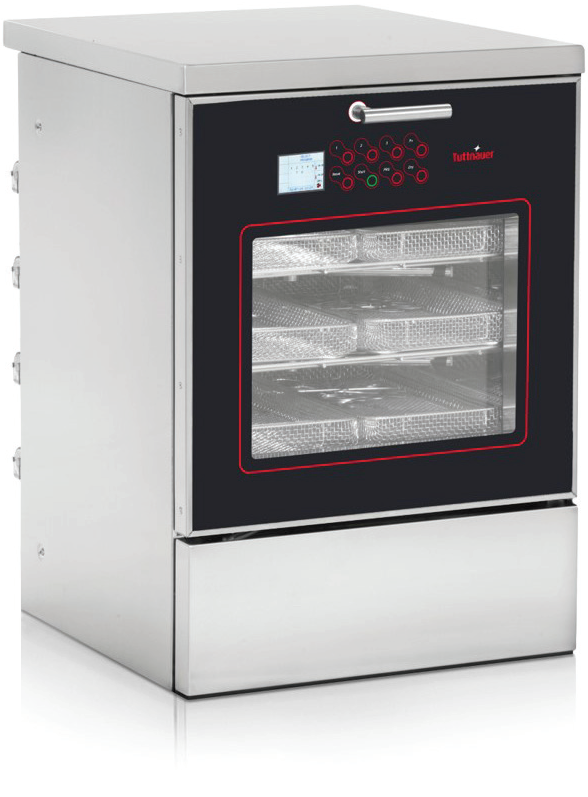 A washer-disinfector is an essential piece of equipment in medical, laboratory, and clinic settings. It is a machine that combines the processes of washing and disinfecting to ensure optimal cleanliness of medical equipment, surgical instruments, glassware, and other tools used in these settings.
Washer-disinfectors are important because they help prevent the spread of infections. In healthcare facilities, infection control is crucial to protect patients from exposure to pathogens. Sterilization of instruments and equipment plays a significant role in preventing the transmission of diseases from one patient to another. A washer-disinfector can provide a high level of assurance that items are clean and safe for use by removing both visible dirt and microorganisms that may be present on surfaces. Overall, this makes it easier for healthcare providers to maintain their cleanliness standards while keeping patient safety at the forefront.
The Benefits of Using a Washer-Disinfector in Medical, Laboratory, and Clinic Settings
A washer-disinfector is a crucial piece of equipment for maintaining cleanliness in medical, laboratory, and clinic settings. One of the key benefits of using a washer-disinfector in these environments is that it can effectively eliminate harmful bacteria and microorganisms from surfaces that cannot be sterilized with other methods.
Another major benefit of using a washer-disinfector is that it provides a more efficient method for cleaning and disinfecting medical equipment. Compared to manual cleaning methods, using a washer-disinfector can reduce the risk of cross-contamination and save time for healthcare professionals who need to prioritize patient care.
Investing in a high-quality washer-disinfector can provide numerous benefits for maintaining cleanliness and safety in medical facilities. By effectively eliminating harmful bacteria and saving time on cleaning procedures, healthcare professionals can focus on providing optimal care for their patients without worrying about the spread of infection or disease.
How Does a Washer-Disinfector Work?
A washer-disinfector uses a combination of high-pressure water sprays, detergents, and heat to remove debris, bio-burden, and microorganisms from the equipment. The process typically begins with a prewash cycle using cold water to remove larger debris. The next step involves using hot water sprays with detergents to clean the items. Once the cleaning is complete, the washer-disinfector moves into the disinfection phase where it heats up water to temperatures above 82 degrees Celsius for a specific period of time to kill any remaining microorganisms.
The final step in this process is drying by using either forced air or vacuum drying methods depending on the type of equipment being cleaned. By utilizing this multi-step process, washer-disinfectors effectively eliminate cross-contamination and can be relied upon to produce highly sanitized supplies for use in medical procedures or experiments.
The Advantages of Investing in a New or Refurbished Washer-Disinfector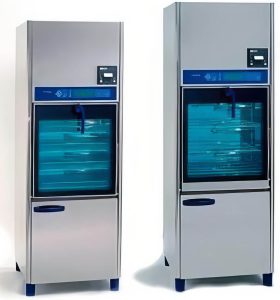 As an essential piece of equipment for medical, laboratory, and clinic settings, investing in a new or refurbished washer-disinfector has several advantages that can benefit your facility in multiple ways. One major advantage of investing in a new or refurbished washer-disinfector is the reduced risk of contamination and infection. A sterilizer may not be enough to fully eliminate contaminants, but a washer-disinfector works differently by using chemicals, high-pressure water, and heat to thoroughly clean and disinfect items. This not only protects patients from infection but also protects healthcare providers from exposure to hazardous substances.
While purchasing a new machine may not be finically feasible, a refurbished washer-disinfector may be a cost effective solution for your facilities needs. By opting for a refurbished machine, facilities can save a significant amount of money while still meeting their requirements. These refurbished washers have undergone a thorough inspection, repair, and cleaning process to ensure they are in excellent working condition. With the affordability of refurbished washer-disinfectors, facilities can invest their budget in other essential areas, making it a practical choice for those looking to make the most of their resources.
Overall, investing in a new or refurbished washer-disinfector has significant benefits for both patient care and facility management needs. With reduced contamination risks and cost savings opportunities, this investment is well worth considering for any healthcare provider looking to provide top-quality care while maintaining an efficient operation.
Regular Maintenance: Preventative Maintenance Plans for Your Washer-Disinfector
A washer-disinfector is a critical piece of equipment that must be maintained regularly to ensure optimal performance. Investing in a preventative maintenance plan through Auxo Medical can save you money in the long run, reduce downtime and improve overall efficiency. Regular maintenance of your washer-disinfector will extend its lifespan, prevent costly breakdowns and reduce the risk of contamination.
Preventative maintenance plans typically include regular inspections, cleaning, and calibration of your machine. During an inspection, our technicians will check for any wear and tear on parts that may need replacement soon. Cleaning involves removing any debris, grease or residue from the machine to prevent the buildup of bacteria or other contaminants. Calibration ensures that your machine is working within its specifications and performs optimally.
With regular maintenance and preventative care, you can avoid unexpected breakdowns or costly repairs. Additionally, by investing in preventative care plans with professional technicians such as those offered by Auxo Medical, you are ensuring that your staff remains safe while operating this vital equipment.
Emergency Repair Services for Your Washer-Disinfector
Despite regular maintenance and care, washer-disinfectors can experience sudden malfunctions that require immediate repair. When this happens, it's important to contact a Auxo Medical for quick and reliable emergency repair services.
Emergency repair services are designed to address critical issues quickly and efficiently, minimizing downtime and preventing further damage. A skilled technician will come to your facility as soon as possible, diagnose the problem, and provide a prompt solution.
At Auxo Medical, we understand how important it is to have access to emergency repair services when you need them most. That's why we offer 24/7 emergency repair services to our clients. Our team of technicians is highly trained and experienced in repairing all types of washer-disinfectors from different manufacturers.
No matter the issue with your machine, we have the expertise and resources needed to get it back up and running as soon as possible. Don't let an unexpected breakdown impact your operations or compromise patient safety; trust Auxo Medical for all your washer-disinfector repair needs.
Other Sterilization Equipment: Autoclaves and Sterilizers
In addition to washer-disinfectors, there are other sterilization equipment options available for medical, laboratory, and clinic settings. Autoclaves and sterilizers are two popular options that offer a different way of achieving sterile instruments and equipment.
Autoclaves use high-pressure steam to kill bacteria, viruses, fungi, and other microorganisms on equipment surfaces. They work by increasing the temperature inside the chamber to above 100°C, which creates steam that penetrates the industrial-grade plastics or metal walls of the device being sterilized. It is an effective method for killing bacteria and spores.
Sterilizers may use also use chemicals such as hydrogen peroxide or peracetic acid to achieve disinfection or sterilization. They work by releasing vaporized chemicals into the device chamber until it reaches a certain concentration level that kills microorganisms at different levels of complexity.
While washer-disinfectors have become popular in recent years due to their efficiency at cleaning instruments with minimal human intervention, autoclaves and sterilizers remain staples in many medical settings. Each has its own benefits depending on the nature of your operation. If you're unsure which option is best for your specific needs, consult with one of  our trusted professionals who can help guide you in selecting the right solution.
Contact Auxo Medical for Your New or Refurbished Washer-Disinfector as well as Maintenance and Repair
If you're in the market for a new or refurbished washer-disinfector, look no further than Auxo Medical. Our team is proud to offer a wide selection of high-quality washer-disinfectors designed to meet your specific needs and budget requirements, as well as expert maintenance and repair services to keep your equipment in top working condition. Contact us today to learn more about our products and services.