3rd Party Maintenance Services for a Wide Range of Medical Equipment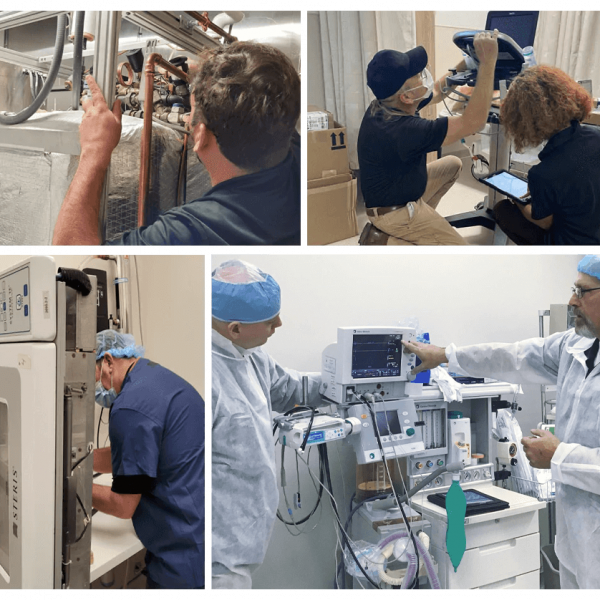 Auxo Medical understands the significance of reliable and well-functioning medical equipment for optimal patient care. We offer comprehensive third-party maintenance services for a broad range of medical equipment, positioning us as your go-to provider for professional, cost-effective maintenance solutions. As a dedicated partner to healthcare providers, we prioritize your needs, working tirelessly to ensure your medical devices perform efficiently, irrespective of their make or model. At Auxo Medical, we already support numerous healthcare facilities with tailored maintenance solutions, and we're fully equipped to cater to your specific requirements as well.
---
Comprehensive Range of Auxo Medical's Services
At Auxo Medical, we offer an extensive array of third-party maintenance services, addressing the diverse needs of healthcare facilities. Our team of skilled technicians possesses the know-how and experience to expertly maintain, repair, and calibrate various types of medical equipment. Whether it's a patient monitor, autoclave, anesthesia machine, or any other piece of medical equipment, we're fully equipped to handle all your maintenance requirements.
Beyond merely providing repairs, we are dedicated to preventive maintenance, working proactively to identify potential issues before they escalate. We ensure regular, thorough inspections and preventive maintenance tasks are carried out, minimizing downtime, and maintaining the efficiency of your medical equipment.
Moreover, Auxo Medical ensures a prompt response to any issue encountered. Our 24/7 emergency repair services ensures that you always have a team ready to assist you, regardless of the hour. With Auxo Medical, you can rest assured knowing that help is only a call away.
---
Cost-Effective Solutions by Auxo Medical
One of the key benefits of choosing Auxo Medical as your third-party maintenance provider is the noticeable cost savings. We provide high-quality maintenance services comparable to those offered by original equipment manufacturers (OEMs), but at a fraction of the cost. Our competitive pricing structure is designed with the financial pressures faced by healthcare facilities in mind, providing you with budget-friendly maintenance options without compromising on quality or reliability.
Additionally, we offer flexible maintenance contracts that can be tailored to meet your unique needs. Whether you need ongoing preventive maintenance, inspections and calibrations, occasional servicing, or demand-based repairs, we can customize a package that provides the most value for you. Furthermore, investing in proactive and regular maintenance reduces the risk of sudden malfunctions, making your overall expenditure more predictable and manageable.
---
The Auxo Advantage
What sets Auxo Medical apart as your third-party maintenance provider is our unparalleled commitment to quality and customer satisfaction. We believe in creating long-lasting relationships with our clients, doing our utmost to exceed their expectations. From the moment you reach out to us to the delivery of our maintenance services, we assure a seamless and positive customer experience.
Additionally, all our maintenance procedures comply with industry standards and best practices. Our team of technicians is OEM-trained, staying updated with the latest techniques, technologies, and standards in medical equipment maintenance. This continuous training and hands-on experience enable us to perform our maintenance duties to the highest standards, ensuring the reliability and longevity of your medical equipment.
At Auxo Medical, we understand the urgency of your needs. Hence, we offer swift, reliable services that ensure minimal disruption to your routine operations. Our skilled technicians quickly diagnose and repair any faults, getting your medical equipment up and running in no time.
---
Tailored Services at Auxo Medical
Recognizing that every healthcare facility is unique, we offer bespoke maintenance solutions at Auxo Medical. We take the time to understand your specific needs, your available budget, and even the intricacies of your medical devices. This in-depth understanding allows us to deliver tailored maintenance services that match and often exceed your expectations.
Our tailored services extend across a wide variety of medical equipment, from multiple manufacturers. This extensive capability allows us to serve as your single contact for all your maintenance needs, simplifying management and coordination of your medical equipment maintenance.
---
Contact Auxo Medical Today as Your Trusted Third-Party Maintenance Provider
Auxo Medical stands tall as your reliable third-party maintenance provider, thanks to our professional, comprehensive, and cost-effective services. Committed to delivering the best-in-class services, we ensure the optimal performance of your medical equipment, enabling you to deliver the highest quality of patient care. We believe in cultivating long-term, collaborative relationships with healthcare facilities, asserting ourselves as not just a service provider, but also a trusted partner. View our maintenance and repair services online or contact us today to see the Auxo difference for yourself. Call toll free (888) 728-8448.