Scope Towers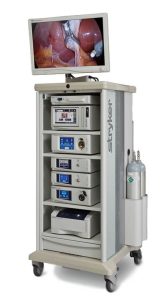 Scope towers are used in various medical procedures, such as endoscopy, laparoscopy, and arthroscopy. These towers provide medical professionals with a comprehensive solution that enables them to achieve optimal visualization during surgeries. Medical scope towers are equipped with high-resolution displays, light sources, and cameras that provide high-quality images to doctors and surgeons. These towers also have the capability to record and store images and videos, which can be used for diagnostic and educational purposes. With the use of medical scope towers, medical professionals can perform procedures with greater accuracy and precision, resulting in better patient outcomes.
Surgical Cameras and Consoles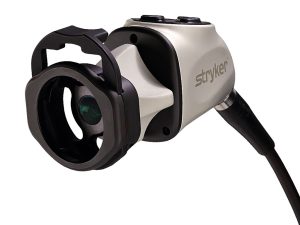 Surgical cameras and consoles have revolutionized the field of medicine by allowing surgeons to perform complex procedures with greater accuracy and precision. These cameras provide high-definition images of the surgical site, allowing the surgeon to see fine details that would be otherwise difficult to discern. The consoles, on the other hand, allow the surgeon to control the camera and adjust the image to get the best view possible. By improving visualization during surgery, surgical cameras and consoles have reduced the risk of complications, shortened recovery times, and improved patient outcomes. They are now considered a standard tool in most surgical procedures, and their use is only expected to grow as technology continues to advance.
Surgical Video Processors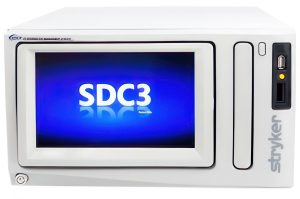 Surgical video processors are essential tools in modern surgery. They are used to process and display high-quality images captured by surgical cameras during procedures, allowing surgeons and medical staff to see the surgical site in detail. These advanced processors can enhance and improve the images, making it easier for surgeons to make accurate diagnoses and perform complex procedures. They can also integrate with other medical equipment, such as endoscopes and microscopes, to provide a complete picture of the surgery. The use of surgical video processors are key components in the field of surgery, providing doctors with the tools they need to perform procedures with precision and accuracy.
Scope Tower Light Sources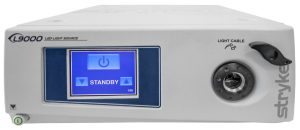 Scope tower light sources are crucial components of modern surgical rooms. These light sources provide surgeons with optimal visibility during procedures, allowing them to perform intricate procedures with greater precision and accuracy. The latest surgical scope tower light sources are designed to provide bright, reliable illumination, and are equipped with features like adjustable brightness, color temperature, and focus to ensure that the surgeon has the best possible view of the surgical site.
Insufflation and Suction-Irrigation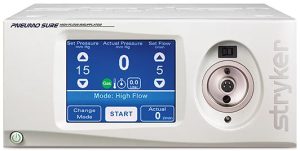 Insufflation and suction-irrigation are two critical technologies that have transformed minimally invasive surgeries. Insufflation, which involves introducing gas into the body cavity, enables surgeons to access internal organs without making large incisions. Suction-irrigation is another essential technology that allows surgeons to remove fluids and debris from the surgical site while irrigating it with a sterile solution. The combination of these two technologies has several benefits, including improved surgical visualization and efficiency. Excess fluids are removed, enhancing visibility, while constant pressure within the body cavity facilitates greater accuracy and control in navigating through the tissue. Suction-irrigation also reduces the time required for instrument cleaning and drying, leading to quicker surgery times with fewer complications.
Scopes
Scopes are another vital tool for non-invasive diagnostic procedures. These specialized instruments enable healthcare professionals to visualize internal organs or body cavities without resorting to invasive procedures. Endoscopes, bronchoscopes, and colonoscopes are among the various types of scopes used for different purposes.
Rigid scopes, often used in arthroscopy, consist of a long, slender tube with a light source and camera at one end, allowing surgeons to visualize and access the interior of joints with precision. Arthroscopy is a procedure commonly performed to diagnose and treat various joint conditions, such as torn ligaments, cartilage damage, or joint inflammation. By inserting the rigid scope through small incisions, surgeons can examine the joint in detail without the need for open surgery.
One of the significant advantages of rigid scopes is their ability to provide high-resolution images, enabling surgeons to identify even the smallest abnormalities within the joint. The camera attached to the scope captures real-time video footage, which is displayed on a monitor, allowing the entire surgical team to visualize the procedure and collaborate effectively.
The use of scopes has significantly revolutionized diagnostic procedures, allowing doctors to identify medical conditions without resorting to invasive surgery. With advanced technology, doctors can closely examine organs or tissues in real-time, ensuring more accurate diagnoses. Non-invasive procedures also minimize the risk of bleeding, infection, and scarring associated with traditional surgical approaches.
The Importance of Biomedical Equipment Maintenance
Biomedical equipment maintenance is crucial for ensuring the proper functioning of medical equipment in healthcare facilities. This includes the proper maintenance of scope towers and all the components and related equipment associated with the towers.  Regular maintenance helps to identify and rectify any issues before they become major problems. It also ensures that the equipment remains in compliance with regulatory standards and extends its lifespan, ultimately saving costs for the healthcare facility. Biomedical equipment maintenance is a key component of patient safety and healthcare quality, and it should be prioritized by healthcare organizations to ensure the best possible outcomes for patients.
When it comes to the maintenance and repair of biomedical equipment, it's crucial to have a reliable and trustworthy provider. That's where Auxo Medical comes in. With decades of experience, the team at Auxo Medical is committed to ensuring that your equipment is maintained and repaired to the highest standards. We offer a comprehensive range of services, including preventative maintenance, emergency repairs, and equipment inspection and calibration. With a focus on customer satisfaction, Auxo Medical is committed to delivering exceptional results and building long-lasting relationships with their clients. So if you're looking for a biomedical equipment maintenance and repair provider that you can trust, look no further than Auxo Medical.
Contact Auxo Medical for Scope Towers and all your Biomedical Equipment Needs
If you are in need of high-quality biomedical equipment, look no further than Auxo Medical. We are a trusted provider of top-of-the-line medical equipment, including Scope Towers and all the key components associated. Whether your are looking for brand new or refurbished biomedical equipment, the available products through Auxo Medical are designed to meet the needs of healthcare professionals and patients alike, ensuring that you receive the very best in medical care. At Auxo Medical, we pride ourselves on our commitment to delivering exceptional customer service, and  work closely with our clients to provide customized solutions that meet their unique needs. So whether you are looking for Scope Towers, Scopes, Insufflation and Suction-Irrigation equipment or other biomedical equipment, contact Auxo Medical today to receive a customized quote.