B2B Franchising with Auxo Medical: The Benefits and Challenges
As a B2B franchisee of Auxo Medical, you have the opportunity to provide essential medical equipment services to healthcare providers while also building strong relationships with them. By partnering with hospitals, clinics, and other medical facilities in your area, you'll be able to offer top-quality equipment sales and maintenance services that can help improve patient care outcomes.
One of the key benefits of B2B franchising is that it allows for a more stable revenue stream compared to B2C models. Healthcare providers require specialized equipment which requires consistent maintenance and upgrades. This means that as a franchisee, you'll benefit from long-term contracts and repeat business from customers who trust your expertise in this industry.
However, there are also challenges associated with B2B franchising, such as navigating complex regulations in the healthcare industry. Franchisees must be knowledgeable about HIPAA laws and other privacy regulations when working with healthcare facilities. Additionally, because healthcare providers have high standards for quality and safety when it comes to their equipment purchases and maintenance services, franchisees need to be aware of general industry regulations as well as adhere to individual facility's policies, such as visual identification, accessible and restricted areas, logging procedures and clean room requirements.
All in all, the benefits of B2B franchising with Auxo Medical outweigh the challenges. With a commitment to excellence in service provision and attention to detail regarding regulatory compliance, Auxo Medical franchisees can succeed in providing essential medical equipment services for their community.
Opportunities for Franchisees throughout the US: A Look at Regional Prospects
If you're considering investing in a franchise opportunity with Auxo Medical, it's important to evaluate the prospects for your region. As a national brand with franchises across the country, Auxo Medical is dedicated to expanding its reach and ensuring that its franchise partners have ample opportunities to grow and thrive.
There are may regions for opportunity including the Northeast and South, where there is a high demand for medical equipment sales and maintenance services. With an aging population and numerous hospitals and healthcare facilities in the areas, there is a significant need for reliable medical equipment providers. In addition to this, many of the states in these region offer tax incentives and other business-friendly policies that can be advantageous for franchise owners.
The Advantages of Owning an Auxo Medical Franchise
Owning an Auxo Medical franchise comes with numerous advantages. Firstly, the industry is highly lucrative with a steady demand for medical equipment as well as maintenance and repair contracts. With the increasing need for advanced healthcare technology, the medical equipment market is projected to grow rapidly in the coming years, meaning an Auxo Medical franchise has strong potential for profitable returns.
Secondly, as a franchisee of Auxo Medical, you will have access to our established brand name and reputation. This will give you a competitive edge over other independent medical equipment companies in your area.
Additionally, Auxo Medical provides comprehensive support services such as initial training, marketing assistance, and ongoing support. This ensures that you get off to a great start and have all the resources necessary to run a successful business.
Furthermore, owning an Auxo Medical franchise allows for flexibility in terms of location. As long as you adhere to certain requirements set by the company, you can open your franchise wherever there is demand for medical equipment and supplies.
All in all, investing in an Auxo Medical franchise provides numerous benefits including high profitability potential, established brand recognition, comprehensive support services and location flexibility.
Why Become an Auxo Medical Business?
We offer meaningful work as a value-driven provider of service to customers like hospitals and surgery centers.
We offer franchise ownership in markets across the United States come grow with us!
We are a leader in the medical equipment service industry.
We have perfected our services and have robust processes allowing for a quick start-up of the new business.
Auxo Medical offers an approachable investment, around $100,000 on the low end, with a large franchise territory.
Investment modeling available vs. opening your own service-based business. (verify with attorney)
Our revenue history is available for review as per our Franchise Disclosure Document (FDD).
Steps to Open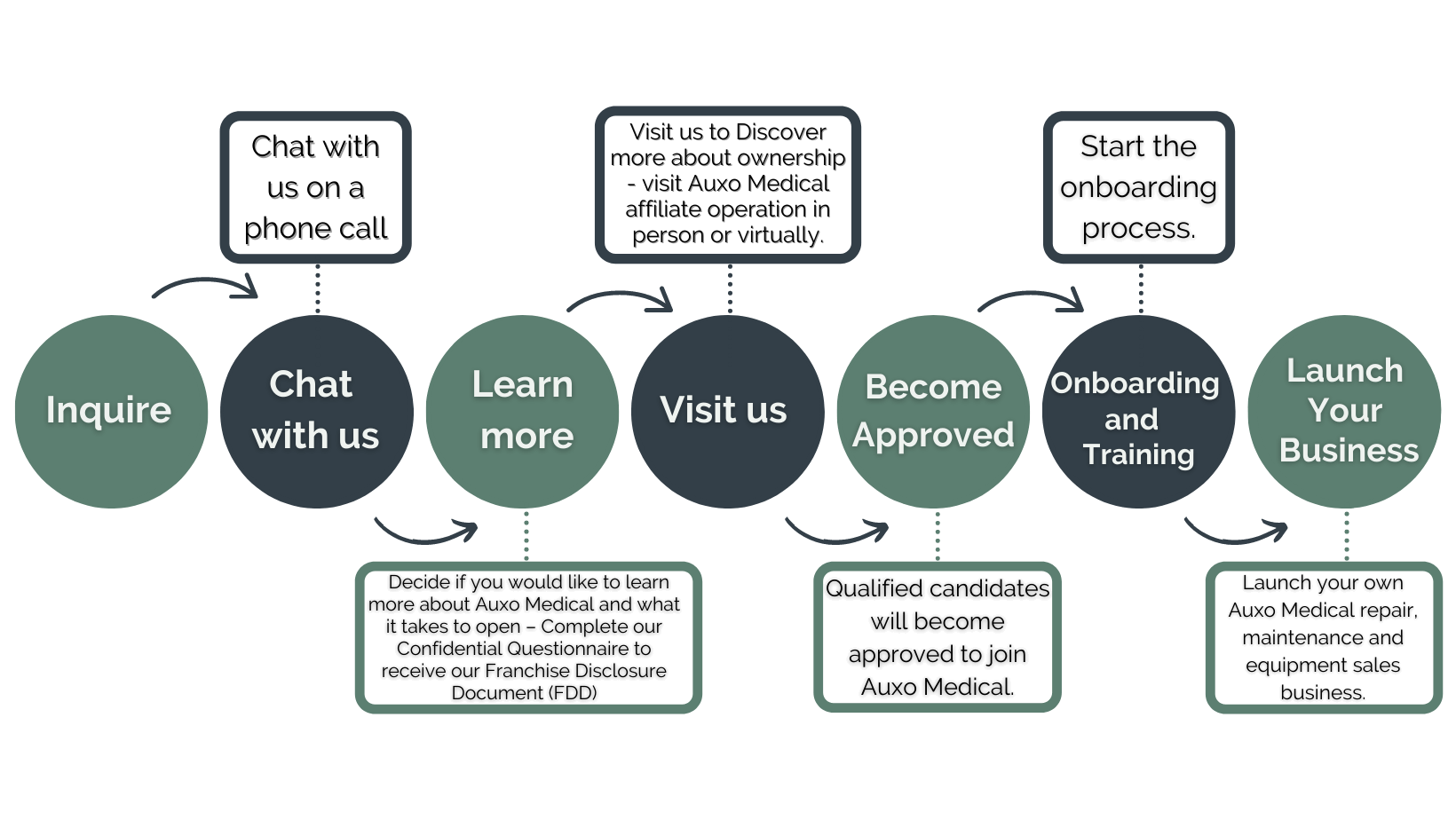 Get Started Today
Auxo Medical is a nationwide franchise providing service, sales, and refurbished medical equipment for clients including hospitals, ambulatory surgery centers, universities, laboratories, and physician offices.  Our team of certified technicians complete all levels of services on sterile processing, biomedical equipment, and anesthesia equipment. At Auxo Medical, our owners and their technicians focus on the customer to provide valuable products and services.  Auxo Medical technicians have a "Can Do" spirit as problem solvers because of the training and confidence in our support and proven processes. For additional information visit our Auxo Medical Franchising page, download our Franchise booklet, and contact our franchise leadership team today.
Not An Offer To Sell a Franchise
This website and the information contained on this website is for information purposes only, is not intended as an offer to sell a franchise or a solicitation of an offer to buy a franchise. The offering of a franchise can be made by prospectus only in the form of a Franchise Disclosure Document. In the states of California, Hawaii, Illinois, Indiana, Maryland, Michigan, Minnesota, New York, North Dakota, Oregon, Rhode Island, South Dakota, Virginia, Washington, and Wisconsin we will not offer you a franchise unless and until we have complied with applicable pre-sale registration and/or disclosure requirements.
In the State of New York, the offering of a franchise can be made only by a prospectus that has been previously filed and registered with the Department of Law of the State of New York. The application for registration of an offering prospectus or the acceptance and filing thereof by the Department of Law does not constitute approval of the offering or the sale of such franchise by the Department of Law or the attorney general of the State of New York.