Achieve Peak Sterilization Performance with Steris Sterilizers
Sterilization is a crucial step in ensuring that medical devices, equipment, and instruments used in healthcare facilities are safe to use. Proper sterilization eliminates the risk of infection transmission and guarantees patient safety. At Auxo Medical, our partnership with Steris allows us to offer sterilizers that can help healthcare facilities achieve peak sterilization performance.
We carry a range of Steris sterilizers, including steam sterilizers, vaporized hydrogen peroxide sterilizers, and low-temperature sterilizers. These sterilizers are designed with the latest technology and are easy to use. Our team can help you choose the right sterilizer for your needs and budget.
State-of-the-Art Steris Technology for Ultimate Sterilization Control
Our Steris sterilizers incorporate state-of-the-art technology for ultimate sterilization control. They feature advanced controls that allow you to monitor and adjust the sterilization process in real-time. This ensures that each sterilization cycle is consistent and reliable, and that each load is thoroughly sterilized.
The AMSCO 400 Series® Medium Steam Sterilizer (autoclave) is designed for today's demanding Sterile Processing Departments (SPDs). This medium autoclave safely sterilizes up to 375lbs per cycle, allowing you to efficiently handle high-volume sterilization and heavier trays while meeting compliance guidelines.
How Does the AMSCO 400 Medium Steam Sterilizer Work?
These prevacuum steam sterilizers efficiently sterilize heat- and moisture-stable materials and are equipped with prevacuum, gravity, liquid and all applicable test cycles. This medium autoclave minimizes condensation with a fully jacketed chamber and lessens the chance of air entering the chamber through the industry's only non-lubricated, steam activated gasket with a 2-year warranty. Optimize your workflow and process up to fifteen, 25lb trays per cycle in the 60″ unit.
The Steris Amsco Lab 250 and Amsco Lab 110 Small Sterilizers are designed to provide a reliable and effective way to sterilize objects for use in laboratory and industrial applications. Both of these sterilizers feature steam-operated sterilization processes, offering superior efficacy against chemical and biological contamination. Additionally, both the Lab 250 and Lab 110 sterilizers have intuitive touch-screen controls, allowing for quick and easy setup and monitoring of their operation. Thanks to their advanced design and ease-of-use, these Steris Amsco sterilizers are the perfect choice for any laboratory or industrial environment.
Three sterilizer configurations are available.
Gravity – designed for sterilization of non-porous heat and moisture-stable goods, sterilization of liquids and media in borosilicate glass containers with vented
closures, and decontamination of supplies after laboratory procedures. The gravity sterilizer is equipped with gravity and liquid cycles.
Prevacuum – designed for fast, efficient sterilization of porous, heat- and moisture-stable materials, in addition to the same sterilization capabilities as the gravity sterilizer. The prevacuum sterilizer is equipped with prevacuum, gravity, liquid, leak test, and daily air removal test cycles. The vacuum level as well as the charge level for the prevac pulses are adjustable.
Isothermal – designed for low temperature sterilization of heat-sensitive and heat-coagulable materials in addition to the same sterilization capabilities as the gravity sterilizer. The isothermal sterilizer is equipped with isothermal, gravity, and liquid cycles.
Each configuration includes choice of a single or double door, for open or recessed mounting.*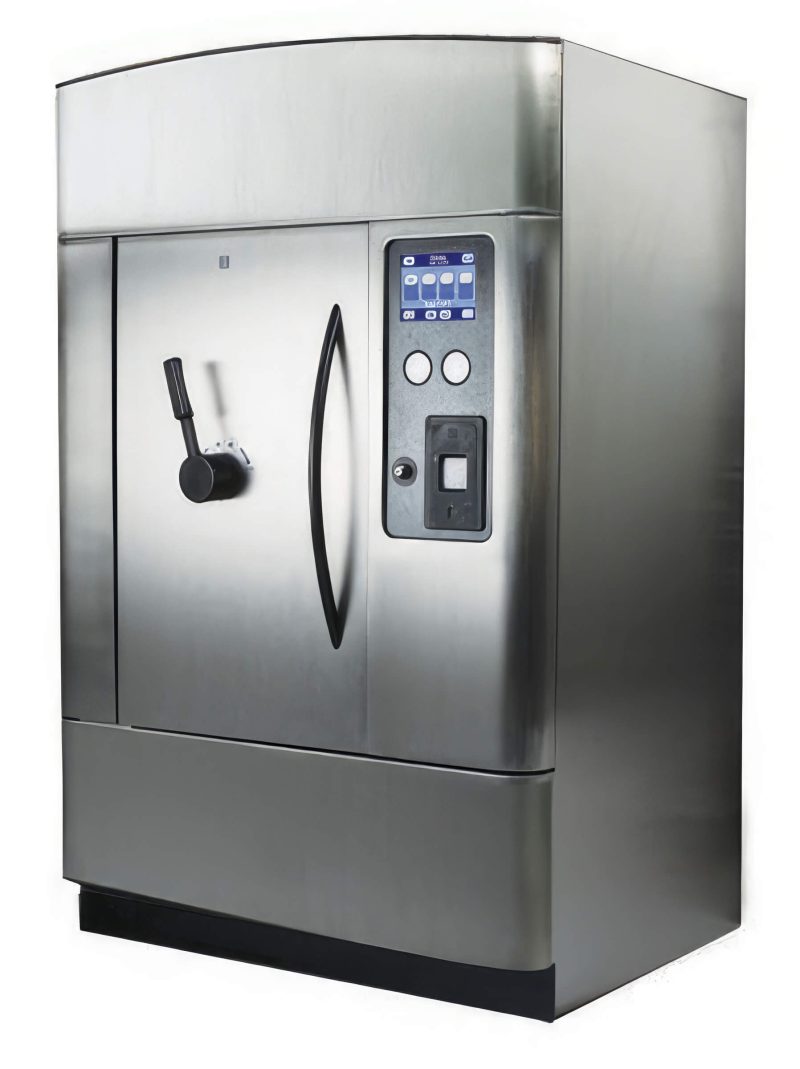 The Steris HC-900 Evolution Sterilizer is a reliable and efficient medical device that provides rapid cycle sterilization of surgery tools and equipment. The rapid cycle times (as fast as 24 minutes) of the HC-900 allows sterilization of instruments quickly and thoroughly, maximizing time efficiency. It features a stainless steel chamber with advanced features such as computerized control and automatic exposures cycles. The HC-900 is designed with safety in mind, utilizing cycle and system monitors to confirm chamber performance and prevent contamination. Additionally, the HC-900 includes a user-friendly LCD display enabling effortless programming and operating the evolution sterilizer. The Steris HC-900 Evolution Sterilizer is a dependable and effective option for medical professionals who need to quickly and safely sterilize instruments.
AMSCO® Evolution® Steam Sterilizers are configured for prevacuum sterilization of heat- and moisture-stable materials used in healthcare facilities. These units can be equipped with prevacuum, Steam Flush Pressure Pulse (SFPP), gravity, liquid, and daily air removal test cycles which use, for example, a Bowie-Dick test pack or a Dart® testing apparatus to determine the effectiveness of removing air from a sterilizer chamber.
Hinged door for 26 x 37.5″ (660 x 953 mm) sterilizers. Door may be hinged on either left side or right side.
All plumbing components are mounted to a free-standing, modular rack (stand). The stand connects to the core sterilizer assembly during installation.
Able to fit four full shelves of 25 lb
Facility Steam Size: Copper/Brass 3/4″ NPT, Stainless Steel 1″ Sanitary TRI-CLAMP®* fitting.
Pressure: 50 to 80 psig (3.45 to 5.5 bar), dynamic, condensate free, and 97 to 100% vapor quality
Average Steam consumption: 63lbs/hr Steam
Peak Steam Consumption: 310 lbs/hr Steam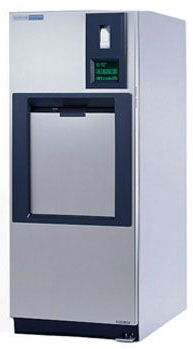 The Steris Amsco Century V120 Steam Sterilizer is a highly efficient and reliable device used in the medical industry for sterilizing various medical instruments and equipment. This state-of-the-art sterilizer incorporates advanced technologies and features that ensure a rapid and thorough sterilization process. It utilizes steam as the primary sterilizing agent, which is known for its ability to penetrate even the most intricate spaces of complex instruments. The Century V120 also boasts a user-friendly interface, allowing healthcare professionals to easily program and monitor the sterilization cycles. With its spacious chamber, this sterilizer is suitable for handling large volumes of medical supplies, making it ideal for hospitals, clinics, and healthcare facilities. The Steris Amsco Century V120 Steam Sterilizer provides reliable performance and peace of mind, guaranteeing that medical instruments are effectively sterilized to prevent the spread of infections and ensure the safety of patients.
Steris Amsco Century Small Series, 20″ x 20″ x 38″ Chamber, 250 Liters / 66 gallons
The Century® Sterilizer meets the needs of today's O.R. and other areas of the hospital. The Century® Sterilizer features foot pedal operation of the automatic sliding door for hands-free loading and unloading. The vacuum fluorescent tough panel permits direct operator cycle selection. The large display of time remaining during the cycle allows the operator to perform other tasks while awaiting cycle completion.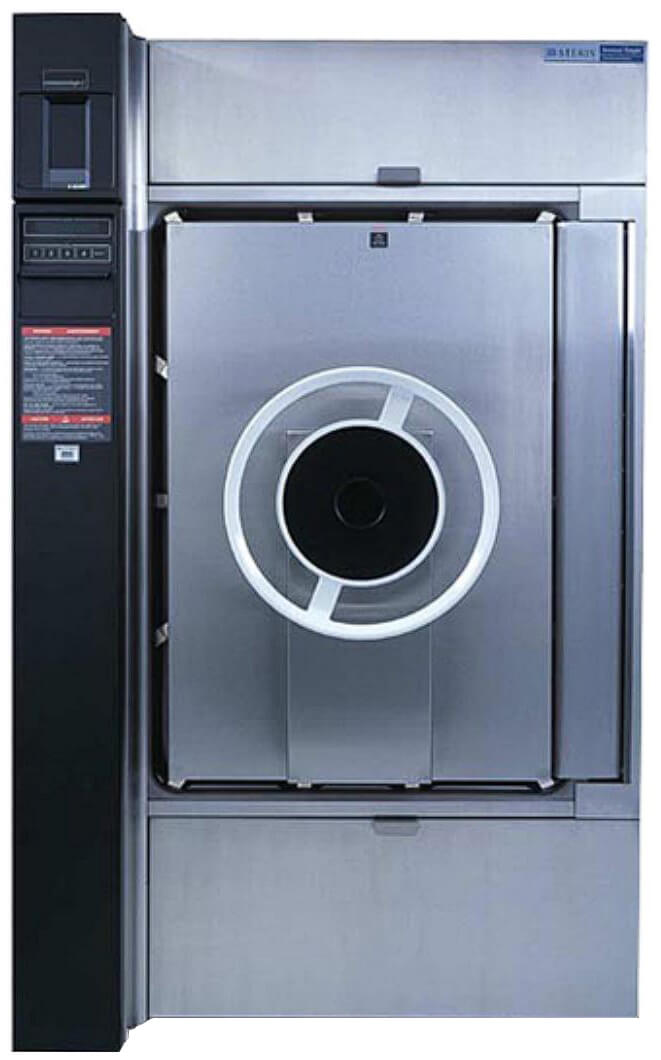 The Steris Amsco Eagle 3053 is a highly advanced and efficient sterilization system designed specifically for healthcare facilities. This high-quality equipment offers a wide range of features and capabilities that ensure optimal sterilization of medical instruments and equipment. The Eagle 3053 utilizes a combination of high-pressure steam and heat to effectively kill bacteria, viruses, and other pathogens. It also incorporates advanced technology to monitor and control the sterilization process, ensuring consistent and reliable results. With its user-friendly interface and customizable settings, the Eagle 3053 provides healthcare professionals with a convenient and efficient solution for their sterilization needs. Overall, the Steris Amsco Eagle 3053 is a cutting-edge sterilization system that plays a crucial role in maintaining the safety and hygiene standards of healthcare facilities.
Features:
• Stage 3 controller with thermal printer
• Dual Radial arms manual door (optional hinge) , Pass through
• Recess Mount with side panels
• Interior chamber size of 24″ x 36″ x 60″
• Pre-vacuum configuration or Gravity configuration
• Thermal display with touch pad operation
• Hydrostatically tested pressure chamber
Steris 400 Series 20″ Sterilizer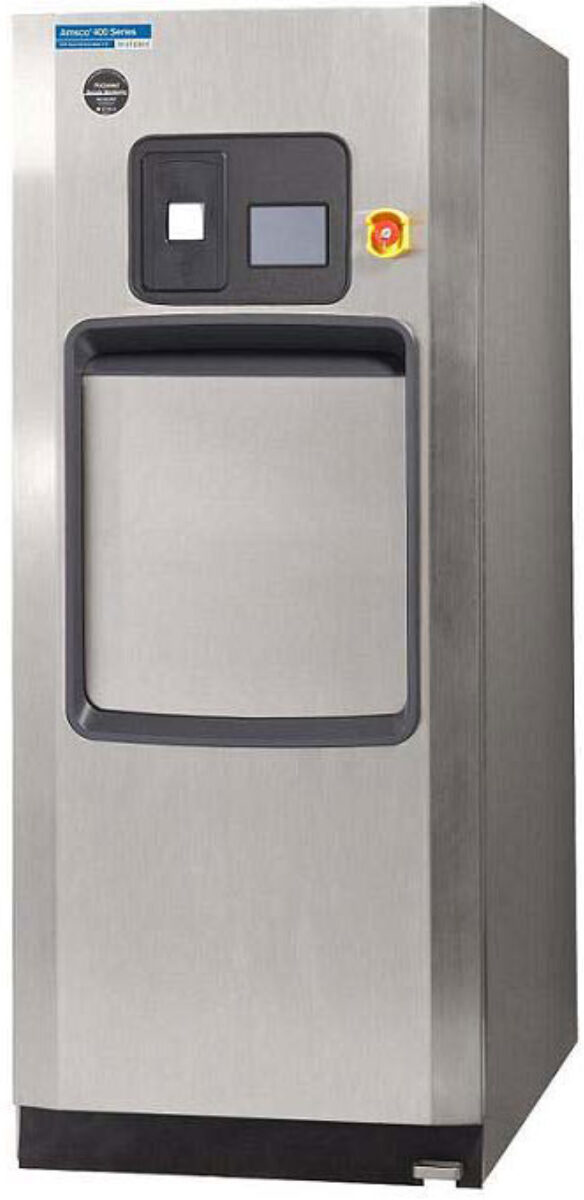 The Steris 400 Series 20″ Sterilizer is a cutting-edge medical equipment that is used for sterilizing medical instruments and other equipment in healthcare facilities. This sterilizer is designed with advanced technology to ensure effective and efficient sterilization of the equipment, promoting the highest standards of hygiene and patient safety. With its large 20-inch chamber, it has the capacity to sterilize a significant number of instruments in a single cycle, saving time and energy. The Steris 400 Series 20″ Sterilizer is also equipped with user-friendly controls and a digital display that allows easy monitoring and adjustment of the sterilization process. Furthermore, it has various safety features such as alarms and automatic shut-off in case of any malfunction or abnormal conditions. Overall, the Steris 400 Series 20″ Sterilizer is a reliable and indispensable tool for healthcare professionals to maintain a sterile and safe environment for patient care.
The completely refurbished V120 steam sterilizer has an interior chamber size of 20x20x38". Includes a rack & two shelf loading system. Single vertical power door (foot pedal actuated) with touch screen operation and printer. 20 x 20″ sterilizers – chamber clearance is 18″ (457 mm) for intermediate shelves, and 15″ (381 mm) for bottom shelf.
Features:
• Touch-screen with 30-line x 40-character display area
• Ink-on-paper impact printer
• Help screens for programming and troubleshooting alarm conditions
• Automatic check of control program and cycle data maintains process integrity
• Service reprogrammable flash ROM memory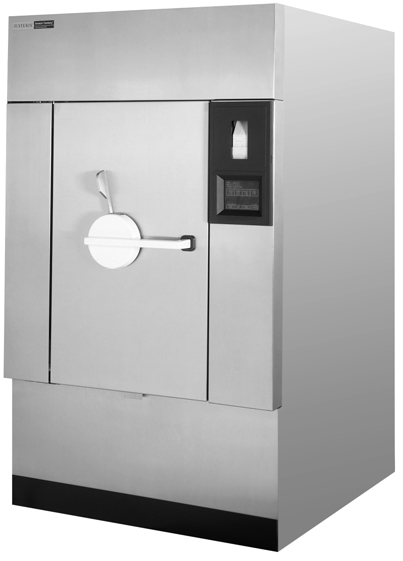 The Steris Amsco Century V160 is a high capacity sterilization system that offers advanced technology and features for efficient and effective sterilization in healthcare settings. This system is designed to offer flexibility and ease of use, allowing for the sterilization of a wide range of medical instruments and equipment. The Century V160 utilizes steam sterilization, a widely recognized and effective method for killing microorganisms. It also incorporates a pre-vacuum phase, which helps to remove air from the sterilization chamber and ensures thorough penetration of steam. With a large chamber capacity and quick cycle times, the Century V160 can handle high volumes of instruments, reducing downtime and increasing productivity in healthcare facilities. Additionally, the system is equipped with user-friendly controls and a clear display interface, making it easy for operators to monitor and manage the sterilization process. Overall, the Steris Amsco Century V160 is a reliable and efficient sterilization system that meets the demanding needs of healthcare professionals.
Steris V160 Steam Sterilizers are designed for fast, efficient sterilization of heat and water-resistant materials with the same capabilities as a gravity sterilizer. The V160 pre-vacuum sterilizer is equipped with pre-vac, gravity, flash, express, leak test, and daily air removal test cycles. With a 26″ x 37.5″ x 60″ chamber, the V160 sterilizer provides enough space fit all of your equipment and sterilize with speed and reputable quality in mind.
Features:
• Florescent display for easy reading
• Ink on paper impact printer
• 26″ x 37.5″ x 60″ chamber
• Pre-vacuum Steam Sterilizer
• Fast & efficient
• Emergency manual exhaust valve
• Non-lubricated, steam-activated door seal
• Help screens for programming/troubleshooting alarm conditions
• Communication interface compatibility w/ most PC devices
• Electronic water conservation valve
• Optional Stainless steel side panels available.
Order your Steris Sterilizers from Auxo Medical
When it comes to medical equipment, quality and reliability are of the utmost importance. That's why it is crucial to order your Steris sterilizers from Auxo Medical. With a reputation for excellence in the healthcare industry, Auxo Medical is a trusted provider of top-of-the-line medical equipment. Their Steris sterilizers are known for their advanced technology, precision, and efficiency in sterilizing medical instruments and equipment. Whether you are a hospital, clinic, lab, or any other healthcare facility, Auxo Medical offers a wide range of Steris sterilizers to meet your specific needs. Our knowledgeable team is always ready to assist you in selecting the right sterilizer for your facility and ensure a seamless ordering process. With Auxo Medical, you can be confident that you are investing in high-quality sterilizers that will help maintain the highest standards of hygiene and safety in your healthcare facility. View all our available new and refurbished sterilizers online or contact us for a customized quote. Call (888) 728-8448.