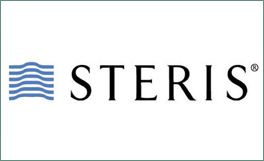 Brands – Steris
Steam sterilizers, also known as autoclaves, are essential pieces of equipment for ambulatory surgery centers, hospitals, medical school labs, and any setting where the sterilization of medical instruments is a necessity.  The Steris family of companies has been manufacturing sterilizers for more than 100 years, providing sterilization solutions for all applications and budgets in more than 60 countries. This family is a recognized global leader in steam sterilization, infection prevention, and contamination control.
Medium Steam Sterilizers
Steris medium steam sterilizers are ideal for ambulatory surgery centers, central service departments, and satellite reprocessing centers. They provide bulk processing of heat- and moisture-stable items, and include the AMSCO 400 Medium Series, Amsco Evolution, and Century Medium autoclave models. Combining state-of-the-art technology with ease of use, this brand of medium steam sterilizers is built for both performance and longevity.
Small Steam Sterilizers
This company also offers a line of small steam sterilizers, ideal for operating rooms, central processing and distribution, and ambulatory surgery. These models include the Amsco 400 16-inch and 20-inch units, as well as the Amsco Century small steam sterilizer models. Like their larger counterparts, these units are compliant with all current steam sterilization standards, but at a fraction of the size and annual operating costs.
Auxo Medical carries good-as-new, refurbished Steris sterilizers that meet the company's exacting standards.